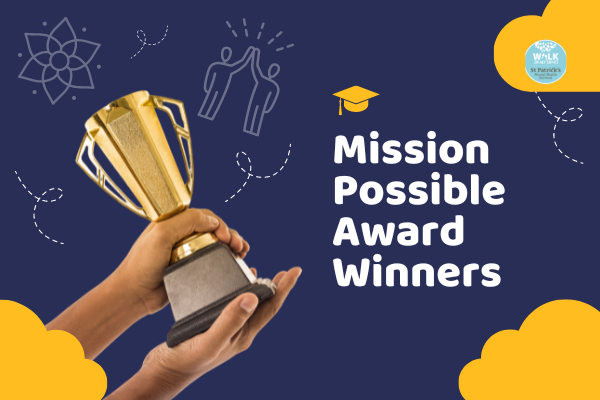 Five schools in Ireland win in our 2022 Mission Possible awards for their mental health innovations.
The winning schools in the 2022 Mission Possible awards from us here in Walk in My Shoes (WIMS) were announced in an online ceremony on 4 May, receiving prizes of €600.
Mental health promotion
Mission Possible has been running since 2017 to celebrate schools which promote positive mental health and wellbeing.
Primary and secondary school winners were announced across three categories.
Best Standalone Project
This award celebrates a once-off project which schools have done to promote positive mental health. 
Primary school winner: Scoil Treasa Naofa, Donore Avenue, Dublin 8
Scoil Treasa Naofa students took part in our Ways to Wellbeing project and entered this into the Mission Possible awards. Ways to Wellbeing is an intergenerational project to build connections between students and older people in their families or communities. Student groups in the schools interviewed an older person in the school garden, in their homes or over Zoom, and created videos, poetry and podcasts based on their conversations. Students gained valuable knowledge of their local area through the eyes of their visitors, as well as wonderful life lessons.
Secondary school winner: Trinity Comprehensive School, Main Street, Ballymun, Dublin 9
Trinity Comprehensive School wanted to bring kindness and wellbeing to their school community. They planned to decorate their school grounds with pretty kindness rocks and to spread moments of joy throughout the school. Students and teachers painted kind and inspirational messages on the rocks; the local community also got involved and the kindness project grew! The Trinity Kindness Rocks Project was organized and became the focus for their school Wellbeing Week. It also fed into a community event run by their school called Better Ballymun. They even made the RTÉ News!
Best Programme Activity
This award recognises wellbeing programmes with a calendar of mental health activities which support young people, teachers and the community.
Primary school winner: St Patrick's Boys and Girls Primary School, Lombard Street, County Galway
St Patrick's primary school in Galway put an action plan into place with the goal of making a difference in the mental health of their pupils. They ran several initiatives and events from Christmas concerts and gardening initiatives to performing on Galway's Shop Street live on national television. They ran kindness awards and set up a Music Shelter as a place where students can sit and sing songs, even when it's raining. The school put an emphasis on a wide range of programme activities to improve wellbeing in creative and impactful ways.
Primary school winner: Loreto Secondary School, Vevay Rd, Bray, County Wicklow
Loreto Secondary School launched a mental health programme called Minding Minds in November 2021. Two resource books were created - one for Junior Cycle and the other for Senior Cycle students - to help teachers, parents and students feel empowered and supported in catering for the mental health of the students. A week-long programme of events was held, including bowling; a question and answer session with Minister of State with Responsibility for Mental Health, Mary Butler TD; and various talks for parents around the subject of mental health. Another highlight included the whole school community climbing Bray Head together.
Most Creative Idea
This award celebrates fun, inventive ideas to tackle mental health stigma and spark up meaningful conversations.
Primary school winner: Scoil Treasa Naofa, Donore Avenue, Dublin 8
The You Fit Right In! project celebrated inclusion and created a welcome mural for the school, so that everyone would know just how welcome they would be at Scoil Treasa. The school set the classes a challenge to design the mural and the winning design was chosen and painted by the class of designers themselves! The end result was a colourful message of inclusion that greets all visitors to the school, a sense of pride and joy among the class of designers, and an amazing feel-good factor throughout the school!
Secondary school winner: St Patrick's Comprehensive School, Shannon, County Clare
St Patrick's Photography Club encouraged students to get out into nature and capture the beauty around them. They shared their work with both the school and local community. Meeting on a regular basis, they worked together to capture photos and to learn together in a friendly and positive environment. The students got a great sense of pride and enjoyment from the photos and have used their talent to raise money for their school and the local nursing home.
Thanks and congratulations
The Mission Possible awards opened for entry in January, with applications closing in March. Each entry was uploaded to our School Portal, a free online platform for primary and secondary schools in Ireland to capture and share a wide variety of mental health awareness projects and activities.
Since then, our judging panel reviewed all the shortlisted entries, taking things like the goals and outcomes of the different initiatives, the ways they were run in schools, and other factors into consideration. Judges included Amanda McArdle, WIMS Campaign Manager; Paul Gilligan, Chief Executive Officer of St Patrick's Mental Health Services (SPMHS); and Maire Brid Ni Chonghaile, Guidance Counsellor and WIMS Advisory Panel member.
Amanda McArdle said:
"There is a deep understanding in schools across Ireland of the importance of mental health; the challenges we have all faced over the last two years and the role schools have played in helping children and young people to deal with them has really underlined this. The entries we received to this year's Mission Possible awards blew me away with the skill, inventiveness and passion of teachers and students show in making mental health and wellbeing a real priority."
She added: 
"We wish a huge thanks and congratulations to all the entrants and winners of Mission Possible 2022. It is a privilege to see all the incredible hard work being done by teachers and students so that children and young people can feel more open about mental health and channel positive wellbeing in their schools and communities".
Want to promote mental health in your school?
We have lots of free ideas and resources which teachers and students can use to make wellbeing and mental health a focus in the classroom: here are just a few to get you started!