Noreen Coll, Deputy Principal and Wellbeing Coordinator at St. Kilian's Junior School in Tallaght outlines some helpful tips for teachers and students as we encounter a challenging school year due to the COVID-19 pandemic. She shares some interesting supports that her school offers pupils on their return to school and offers tips that we can adopt to take care of our mental, physical and emotional health.
Earlier this year, the COVID-19 pandemic came charging into all our lives disrupting schools globally, devastating economies and causing chaos. With schools closed and children spending more time at home, their learning was predominantly moved remotely online. It has been a challenging time for children who missed their school routines, their friends and the support that being at school offers them. 
Going back to school safely 
School leaders across the country spent many hours over the summer working through the logistics of a safe return to school for pupils and staff. As teachers, we have all heaved a collective sigh of relief that the staggered drop-offs and collections, staggered breaks and yard times worked. For the most part, the children who attend school are delighted to be back, glad to have structure and routine and happy to see their classmates and their teachers.
In the long term, we do not know what the impact, effects and consequences of opening schools in the current pandemic will be, but we need to be aware that the mental health of children has the potential to become a greater problem than the virus itself. Children have been living in a world of uncertainty, many of them may feel unsafe and unable to control the world around them. They need the warm, calm and reassuring presence of their teacher and the structure and routine of school. 
Strategies to support pupils
With this in mind, our school have developed a series of strategies to support children on their return to school. As their return coincided with Health and Wellbeing Week, we focussed on the following;
•The importance of healthy eating, revisiting our healthy eating policy and emphasising the importance of drinking water.

•The need for lots of physical activity whenever possible, using all spaces outside the classrooms in the open air for physical education, movement and dance.

•Introducing our Mindfulness programme which will continue throughout the year. Mindfulness is a wonderful tool, designed to help children to find a quiet space in their minds when there is chaos going on around them. You can find plenty of mindfulness resources to use in the classroom by following this link. Mindfulness can be easily thought while respecting social distancing guidelines.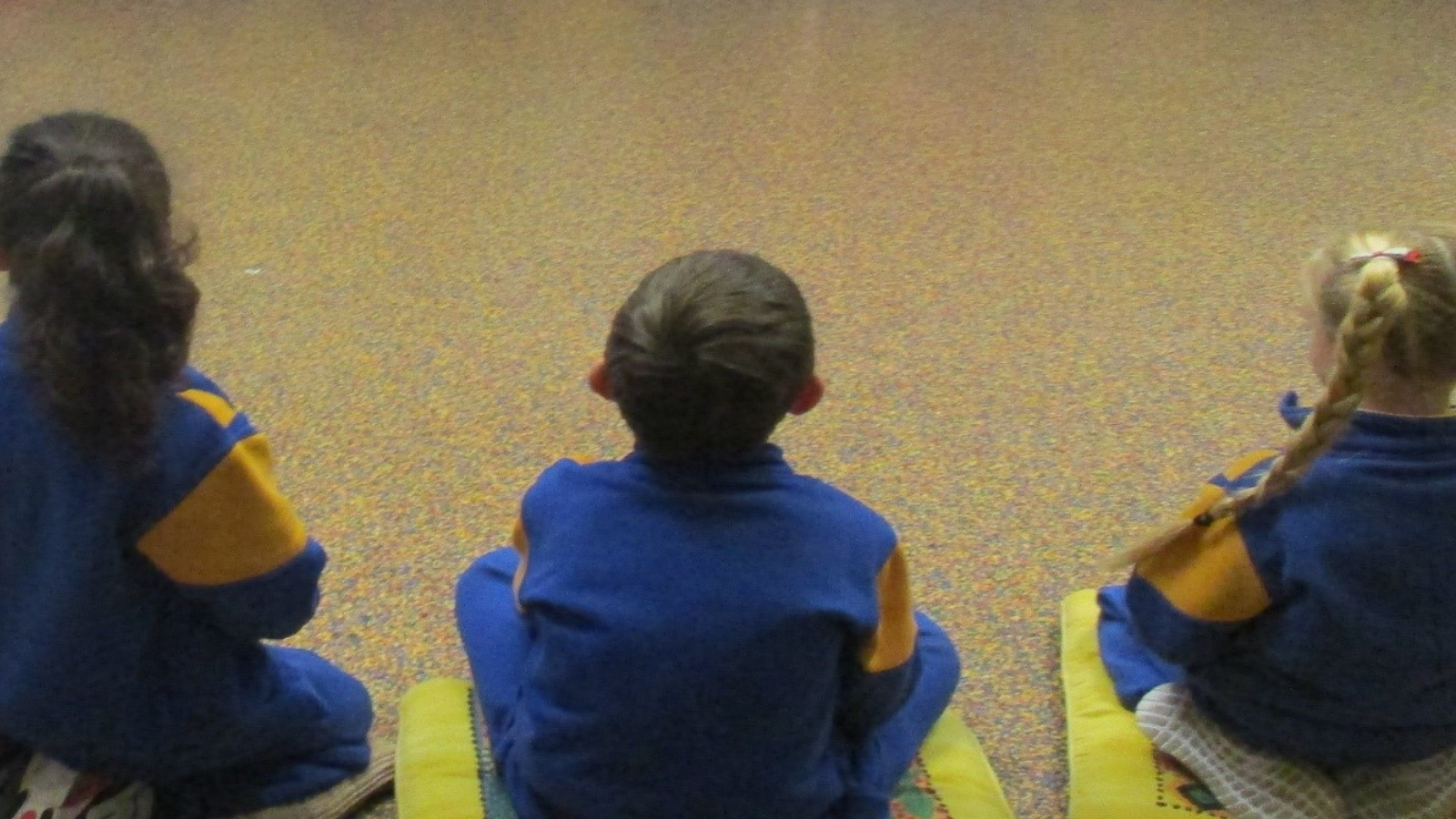 •Working through art lessons with the class group to promote unity, bonding and friendship. Each child receives a jigsaw piece drawn on A4 paper, children draw themselves on the jigsaw piece, the teacher displays all the jigsaw pieces, joined together on the noticeboard. Even though the children are all individuals, they are part of a wonderful class and they see themselves as part of that group every day in their classroom. You can access this activity by following this link.

•This jigsaw exercise can be adapted to an art lesson of a tree. Each child receives a leaf on which they draw themselves and the teacher displays all the leaves on the tree. Some classes cut out photos of themselves and pasted them on to a tree. Other classes painted and printed their individual handprints on an owl, they put the owls together on a tree and displayed them in their classroom.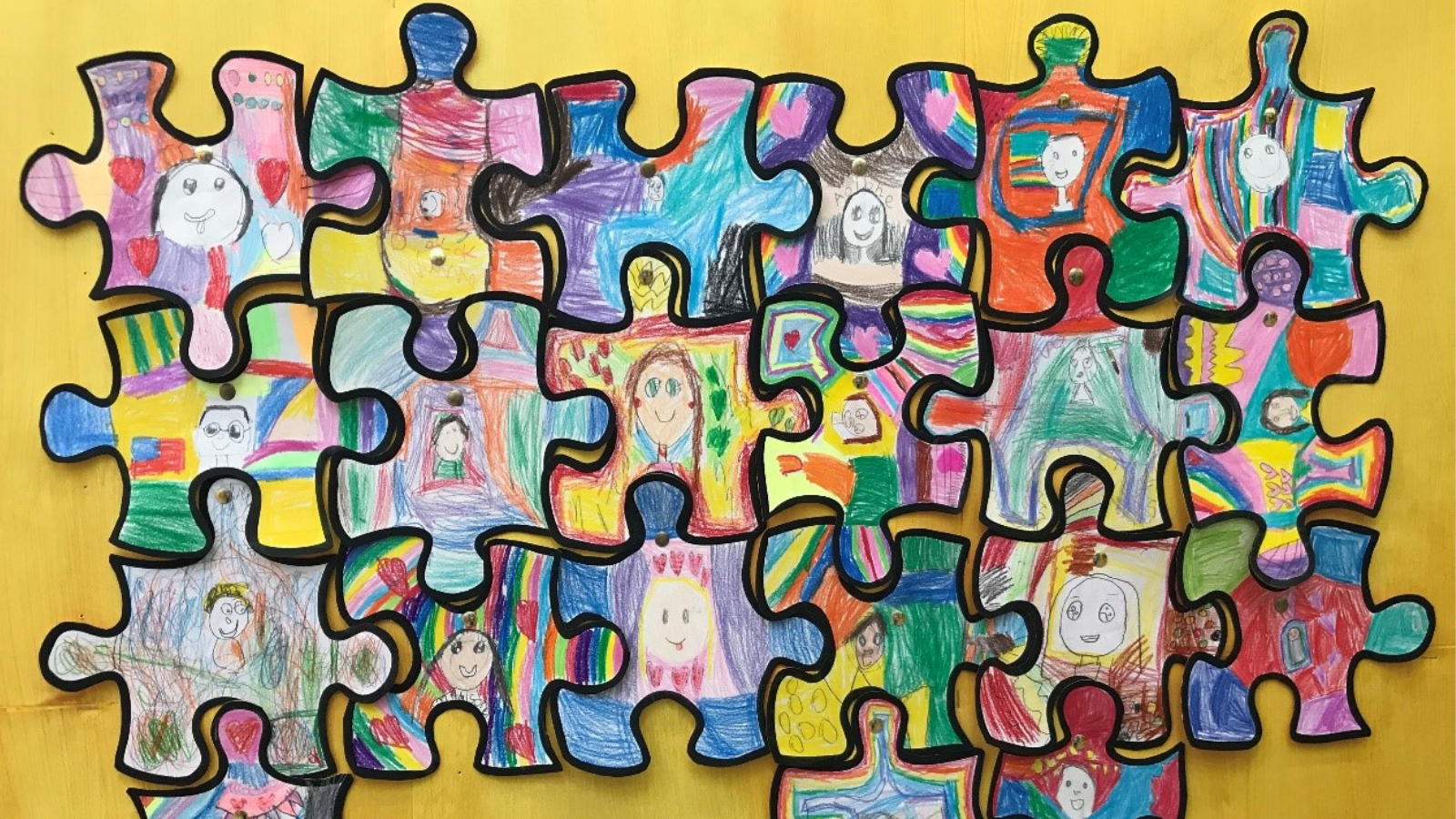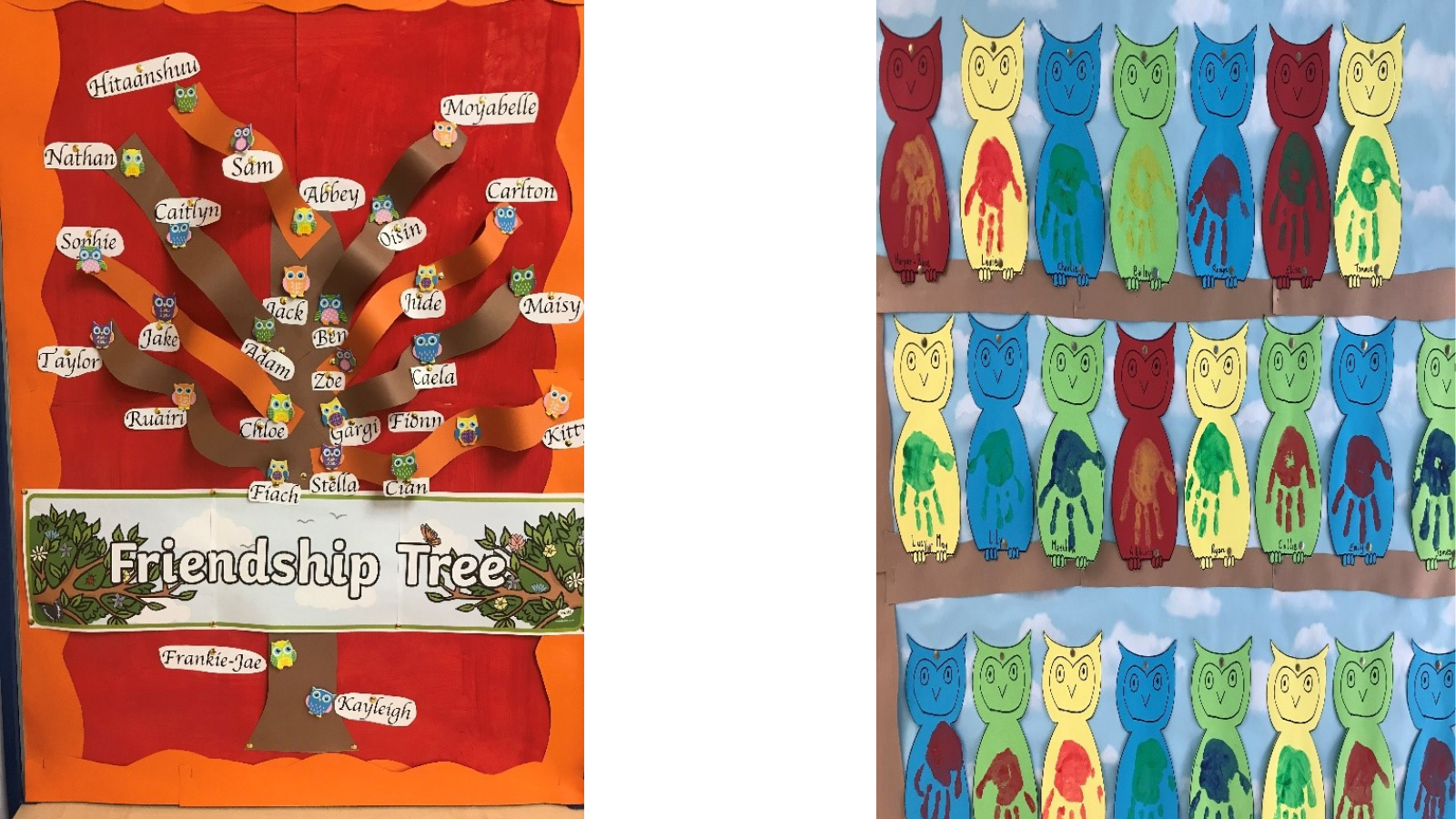 •Encouraging children to use their virtual cameras to "take photos" of themselves and their friends, which is an adaptation of the Walk in my Shoes Mind your Selfie activity. They designed their selfie and then depicted their friends in their second photo. The children talked about their photos and their friends, about "minding their selfie" and about minding each other.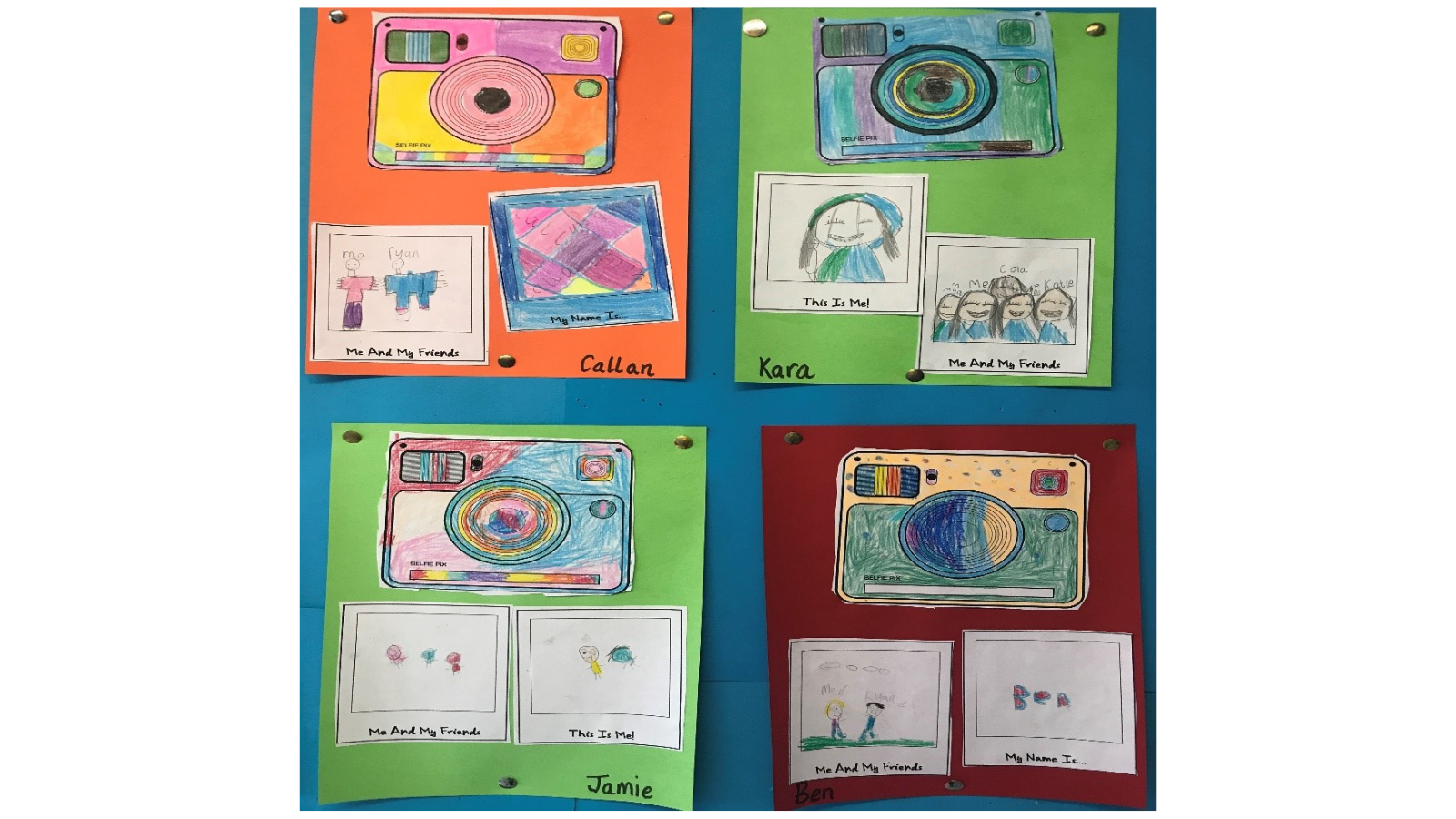 •Many children are anxious or nervous as they return to school due to the current uncertainty. "Friends for Life" and "Fun Friend" are programmes recommended by the Department of Education to support anxious or worried children. The lessons that teach how red thoughts (difficulties or challenges) can be converted to green thoughts (positive thoughts) are especially useful. Children who suffer from anxiety will benefit from these lessons as they develop skills to cope with challenging thoughts.
•"Conversations with Children" is a programme developed by Rainbows Ireland to support children on their return to school. The resource framework tool is developed for a whole class approach and provides general and universal support for all. The process takes place over four teaching sessions and helps to create a safe space for children to contribute. Conversations with Children can be downloaded for free and printed for use by following this link.

•As many young children have been apart from their friends for many months, our school has initiated a Kindness Award to the child in every classroom who is the kindest and most inclusive at playtime. Teachers highlighted the importance of kindness, taking your turn and including all children from your pod in your game. On Friday of Health and Wellbeing Week, the kindness awards were distributed with a certificate of kindness and a small kindness teddy bear for the winning children.

•Our younger pupils watched "While We Can't Hug", which beautifully explains other ways of being friends while we can't touch or hug to children.
Finally, to teachers and school staff:
Now we are back to school, many of us are anxious and worried. There are some steps you can take to keep you healthy in body and mind.
• It is important to stay connected to our friends, family and colleagues via video calls, phone, texting or whatever platform you prefer.
• It is also important to stay active and to eat and drink well.
• We should continue to reflect on the positives that have become part of our lives recently, the healthy habits, the slowing down and appreciation of the little things in life.

The following support is available to teachers and school staff:

• Samaritans, 24 hour confidential, non-judgemental support can be phoned on 116 123
• Spectrum Life is a free 24-hour support for teachers, they can be reached by calling 1800 411 057
• Jigsaw, in collaboration with Education Support Centres Ireland, has developed some interactive training courses for teachers. Visit this link to find out more.

To find mental health supports and services near you, phone 1800 111 888 or visit yourmentalhealth.ie
Further mental health supports for schools
WIMS Live was our week-long programme of online events, activities and curated content to mark World Mental Health Day on 10 October. You might like to enjoy some of the WIMS Live programmes below .