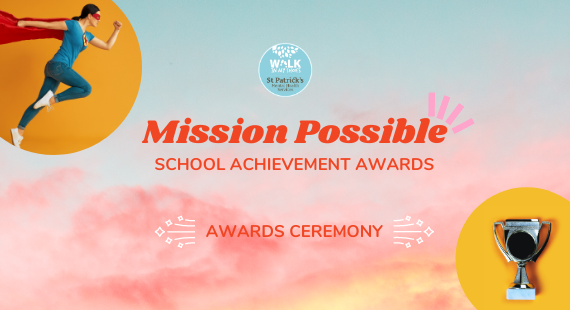 Six schools from across Ireland scooped winning prizes for their mental health initiatives at the 2021 Mission Possible awards.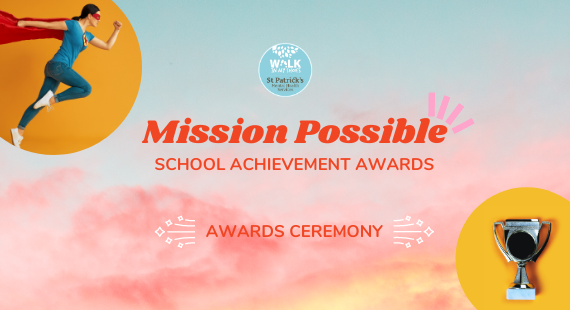 Six schools from across Ireland scooped winning prizes for their mental health initiatives at the online ceremony for the Walk in My Shoes (WIMS) 2021 Mission Possible school achievement awards.
Running since 2017, Mission Possible celebrates schools that promote positive mental health and wellbeing.  
Winning schools
Over 50 schools from across the country entered their mental health and wellbeing initiatives into the competition, showcasing their commitment and determination to embed positive attitudes and resilience, despite the extraordinary challenges schools have faced over the past 12 months.
The winning schools were announced at a live online ceremony on 21 April, with three primary schools and three secondary schools taking first-place accolades and a €600 prize across three categories.
Highlights from the winners included a feelings chart; a 'Pay It Forward' campaign; digital detox; virtual check-ins; a companionship project; an LGBTQ and mentoring programme; and a sensory garden. 
Best Standalone Project
This award celebrates a once-off project that displays the great work schools have done to promote positive mental health. 
Primary school winner: Scoil Treasa Naofa, Donore Avenue, Dublin 8.
Secondary school winner: St Patrick's Comprehensive School, Shannon, County Clare.
Most Creative Idea
This award recognises the most inventive and fun ideas to combat mental health stigma and open meaningful conversations.
Primary school winner: St Oliver's National School, Carlingford, County Louth.
Secondary school winner: Kildare Town Community School, County Kildare.
Best Programme Activity
This award is given in recognition of wellbeing programmes which involve a calendar of mental health activities to reach and support young people, teachers and the community.
Primary school winner: St Colman's National School, Cloyne, County Cork.
Secondary school winner: St Patrick's Cathedral Grammar School, Dublin.
Each participating school also received a Certificate of Achievement.
All entries to the competition were uploaded to our School Portal, where nearly 300 schools are registered, so that, beyond the competition, teachers can share and take inspiration for wellbeing initiatives in their classrooms.
Inspiration and resources for teachers
RTÉ Home School Hub Múinteoir, Emer O'Neill, joined Paul Gilligan, Chief Executive Officer of St Patrick's Mental Health Services (SPMHS) and Tamara Nolan, Director of Communications and Advocacy at SPMHS, as a judge for the awards, and competition was tougher than ever. 
Speaking about the awards, Emer said:
"I was delighted to sit on the judging panel for this year's Mission Possible school achievement awards and witness all the fantastic work being done by schools to promote wellbeing across the country."
"Coming from a teaching background, I know how important it is for students to learn about different ways to mind their mental health, especially in the current climate.  It's great to see that so much emphasis is being placed on wellbeing – not only by teachers, but by students too.  These awards are a platform to recognise this hard work, and are an important resource for influencing wellbeing initiatives in schools nationwide."
Amanda McArdle, WIMS Project Manager, added: "Over the past five years of this competition, we have seen the dedication of schools in promoting positive mental health. Incredibly, this commitment has not faltered despite disruptions caused by the pandemic.  All 53 entries were of the highest standard, and have been uploaded to the WIMS School Portal which is shared with almost 300 schools across Ireland, providing inspiration and resources to teachers who wish to continue to promote wellbeing amongst their students."
"I would like to congratulate and commend all of the schools who entered this year for their relentless commitment to promoting and prioritising the mental health of our young people." 
Find out more about Mission Possible