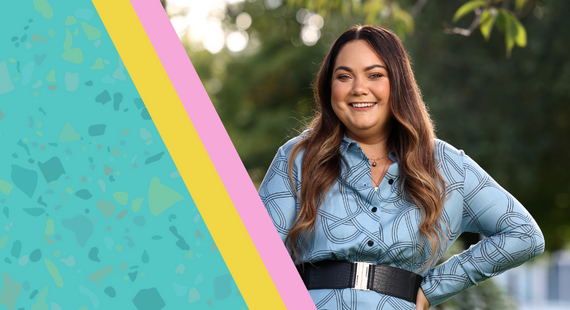 Grace Mongey Gernon shares her story of experiencing mental health challenges as a young person and how she's travelled her mental health journey.
At the early age of 17, I was diagnosed with anxiety and depression. It was the beginning of a long road with many ups and downs. Since then, I've done a lot of work on myself and educated myself a lot about my own mental health and what I was feeling.
Beginning my mental health journey
It was when I was at that age of 17 that I first recognised the feeling of anxiety. It started with a sensation in the pit of my stomach. I always describe it as being similar to nerves before an exam or the "first day of school jitters".
Then, in a trip to my GP with my Mam, the doctor uttered the words, "it sounds like depression". To a 17-year-old girl who had felt like she had it all, this was very confusing. I felt like I had no reason to be experiencing this, and I couldn't understand why it was happening to me. To me, depression hit at an older age, when things had gone really wrong or if something traumatic had happened. Now, at the age of 34 and after years of therapy, I know that's not the case. It can happen to anyone, at any time, and in any situation.
After my diagnosis, it was recommended I see a psychologist and, after a few sessions, I started to feel like myself again. I started socialising again and feeling happier. Yes, I would go on to experience some pockets of anxiety, but it was manageable.
At the age of 20, I sadly lost my Dad to cancer. I felt, at the time, that I was doing ok: I was looking after my Mam and I was grieving. It was only after a few years that I really began to experience the full impact of losing my dad at such a young age. Panic and fear would hit, and I experienced many different types of panic attacks.
Feeling overwhelmed
It was when I was 25 and living in Australia with friends when things escalated and I started to feel an overwhelming sense of depression.
It felt like, as the months went by, my anxiety, fear, paranoia and depression grew stronger and started to affect my daily life in more ways.
I found it difficult to work, socialise, be around friends, and even go to the supermarket. I started to be unable to sleep or eat, and it was at that point that my friends knew something was really wrong.
I have always been a very open person; if you'll listen to me, I'll talk. My friends saw me have some of my worst panic attacks and brought me to see a doctor over in Australia. The doctor recommended I try a free service that was available for teens to young adults called Headspace. I enquired and was offered some sessions with a counsellor, which helped a lot with the panic attacks and irrational thoughts I was having. The doctor also prescribed some anti-anxiety tablets that would help relax me and help me sleep. I was getting barely two hours sleep a night at the time and this was having a massive impact on my ability to function day-to-day.
While all this was going on, I tried to keep my family at home out of the loop. I didn't want to worry them and thought I would be able to get myself back to a good headspace. Little did I know, my friends were in constant communication with my family back home. I will forever be grateful to them for this.
A friend was coming to Australia for a little holiday and to do some traveling with us. She had a return ticket for six weeks later, and suggested that I fly home with her and get some help. I didn't want to give up on my "Australian Dream", but I knew it was the right thing to do. I booked a flight home with her and, before leaving to return to Ireland, we headed on a six-week trip down the east coast.
Looking back, I shouldn't have gone on that trip in the headspace I was in. We were in some of the most incredible places and around things I never thought possible. I had some good days, but, for the majority of it, I sat in fear, having irrational thoughts and experiencing daily panic attacks. As we got about five weeks into the trip, things were at an all-time low for me. I wasn't sleeping and I was barely able to leave the hostel room for dinner.
Opening up
I was always very open with my sister. I'd ring her at all times of the night and she'd always answer. One particularly hard night, I rang and she suggested I pause the last part of the trip and stay in Brisbane with a family friend to get some rest. It was exactly what I needed. Again, that friend took me to see a doctor. I was prescribed some medication to help with the anxiety and, very shortly, I'd be home in Ireland with my family. I thought I'd never get home.
After landing home and, in the comfort and support of my family, I really opened up and explained what I had been going through. Again, my Mam and I went to see the same doctor I was with when I was 17. As I was older and in the depths of depression, he suggested I start taking antidepressants and see a psychologist again. After a few months of therapy and being home, I started to feel like myself again: the panic and fear subsided and I was able to see the light again. I started going out, started working and met my now husband.
Sharing my story
It was at this point I felt like I wanted to share my journey online. I had a YouTube channel since before I went to Australia, so, one day, after a session with my therapist, I sat down, turned on the camera and shared a very raw and vulnerable video talking about my mental health.
As a young girl growing up, I didn't understand mental health: I had no idea what anxiety was and I wanted to share my story to help others who might be feeling this way. I wanted to normalise it, to make people understand what it was, and to also shine a light on something I was so ashamed of for years.
Since making that first YouTube video, I've gone on to make lots more, and I've grown a following on Instagram. I share my journey as I navigate my mental health and keep my followers up to date with how I'm feeling. I always encourage people to talk and remind people that it's ok not to feel ok all the time.
When I was asked to be the Walk in My Shoes (WIMS) Ambassador, I was over the moon and so honoured. I've worked with WIMS over the past seven years, whether it was on the radio, panel discussions or on webinars, and it really feels like a full circle moment. The incredible work WIMS does means so much, and I know the positive impact it can have on someone who is having difficulties with their mental health.
Over the past nine years of sharing my story, I've visited schools and universities and spoken on radio and television. I know with this role we can continue to spread the word, destigmatise mental health, and help so many young people in the process. I look forward to working with WIMS and helping as many people as I can by sharing my mental health journey.
Keeping a check on my mental health
Almost 10 years since I left Australia, two beautiful children, a cat, a dog and a husband later, I still need to keep a check on myself.
I've since found an incredible psychotherapist who I've used for seven years. I don't feel the need to go weekly or monthly now, but I know, if and when I need her, I can just pick up the phone and make an appointment.
Over the years, I've been prescribed medication to help with my depression and anxiety. After having my son, I experienced postnatal anxiety, and my therapist suggested I speak to my GP, who prescribed me a low dose anti-depressant and anti-anxiety medication. I was taking them for about a year and a half, alongside going to monthly sessions with my psychotherapist. Once I began to feel in a better headspace, we came up with a plan to reduce my medication and eventually come off them. I still have my anti-anxiety medication and I find it helpful when I need it if I'm going through a particularly hard time.
For me, awareness is key to staying in a good headspace. I check in with my body daily, ask myself how I am doing, and be kind to myself on days I am not feeling my best.
Making my mental health a priority has allowed me to be the best version of myself for my children, my husband, my friends and family. 
The advice I would give to my younger self or anyone experiencing difficulties would be to speak to someone. I always say, a worry shared is a worry halved.
I think getting reassurance or offloading some thoughts to someone you trust is the first step in the right direction.
Those first few conversations are always the hardest whether it be with a doctor, a family member or a trained professional. Making the decision to get help and understanding that you need it is such a huge deal and one I'd be proud of.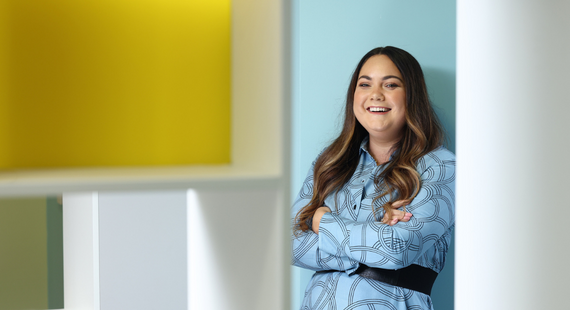 Grace Mongey Gernon is a social media content creator. A wife and mother of two, she shares the highs and lows of her daily life and talks about mental health and wellbeing with her online followers. Grace is also a mental health advocate and joined us as WIMS Ambassador in October 2022. The views and opinions here are the author's own.
Find out more
Grace shared her story during our 2022 WIMS Live campaign. WIMS Live aims to open up conversations about mental health, help improve understanding about mental health, and encourage people to seek help if they need it. You can see more from WIMS Live, or learn more about the kinds of mental health difficulties that young people can go through, below.