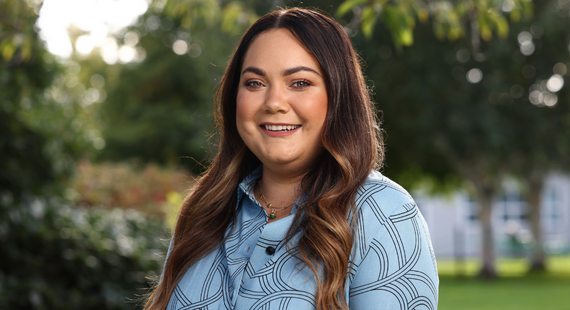 Walk in My Shoes (WIMS) is thrilled to announce Grace Mongey Gernon, mental health advocate and content creator, as our new Ambassador.
Grace, known on Instagram as FacesByGrace, will be working with us over the next year to promote positive youth mental health and to tackle mental health stigma.
Using her skills and experience as a social media content creator, Grace will help us to amplify our message and support us in promoting positivity online through campaigns such as #MindYourSelfie and WIMS Live.
Openness about mental health
Grace is a passionate mental health advocate who openly shares her mental health journey, which began in her teens, with her large online following. Through her ambassadorship, Grace will act as a role model for young people throughout Ireland to encourage them to speak openly about their mental health, to practise wellbeing, and to challenge mental health prejudices.
Speaking about becoming a WIMS Ambassador, Grace said: "I am delighted to be working with the WIMS team over the next year as they continue to provide invaluable mental health resources and educational tools for young people and their parents and teachers across Ireland. My own journey with mental health began in my teens when I was diagnosed with anxiety and depression at 17 years of age, and having experienced this at such a formative, critical age, I know how important it is to have resources, tools, campaigns and supports out there that are particularly targeted towards young people."
"The WIMS campaign is an incredible investment in youth mental health, and I am excited to be part of it. I want to encourage and empower young people to learn about their own mental health and the ways in which they can bring positive wellbeing practices into their day-to-day lives."
Speaking about our newest ambassador, Paul Gilligan, Chief Executive Officer (CEO) of St Patrick's Mental Health Services, said: "We are delighted to welcome Grace on board as the new WIMS ambassador. We look forward to working with Grace over the coming year to empower young people to live mentally healthy lives, to tackle mental health stigma and to raise awareness of mental health difficulties."
"For the past 10 years, WIMS has been at the forefront of promoting youth mental health through our education and awareness initiatives, and, each year, the WIMS ambassador plays a significant role in helping us to educate and advocate for young people in their mental health journeys. We are very lucky to have so many supporters and advocates willing to lend their support to the WIMS campaign, and we are very grateful for the important work that they do."
World Mental Health Day celebrations
The announcement of Grace Mongey Gernon as our new ambassador comes as WIMS Live is set to return from 10 to 16 October. WIMS Live is an online programme of curated content which we hold every year to mark World Mental Health Day. This year's WIMS Live theme focuses on shining a light on lesser understood or commonly misrepresented mental health difficulties, such as psychosis, personality disorders and bipolar disorder.