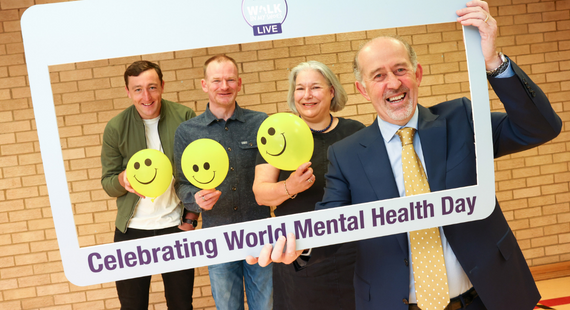 Our WIMS Live campaign returns for its third year with a focus on highlighting mental health difficulties that are often less understood.
At Walk in My Shoes (WIMS), we are delighted to launch our WIMS Live campaign on World Mental Health Day 2022.
This year's campaign will focus on learning more about mental health by exploring lived experiences; considering how we can support people; and talking about ways we can help to end stigma and improve understanding.
WIMS Live 2022 runs from Monday, 10 October to Sunday, 16 October 2022. As always, we have lined up some of Ireland's top mental health experts and special guests to explore a wide range of mental health topics throughout the week of the campaign.
This is the third year of the campaign, which won the award for the best communications campaign by a not-for-profit or non-governmental organisation (NGO) at the Public Relations Institute of Ireland and The Public Relations Consultants Association's Awards for Excellence in Public Relations in 2022.
Live launch event
We are launching WIMS Live panel discussion between people with lived experience of mental health difficulties that may be less typically understood or less represented.
Taking place on World Mental Health Day, the panel discussion will be streamed live on WIMS YouTube channel from 10am on Monday, 10 October.
The panel of speakers includes former Dublin GAA minor and Under 21s hurler, Cormac Ryan, who featured in a 2021 RTÉ documentary, Unspoken, about his experience of eating disorders. He will be joined alongside Charlotte Frorath, a former service user of St Patrick's Mental Health Services (SPMHS), and Gary Anderson,  a SeeChange ambassador.
Daily content
Each day of WIMS Live will see a new video launched here on our website. The videos will explore mental health difficulties such as bipolar disorder, personality disorder, eating disorders, psychosis and schizophrenia, and youth mental health. Each video will be accompanied by blogs from people with lived experience of the mental health difficulty.
We will also be sharing daily social media content on WIMS channels, including Twitter, Instagram, and Facebook.
You'll be able to see all our WIMS Live content here.
Ending mental health stigma
Speaking about this year's WIMS Live campaign, hurler now turned endurance cyclist, Cormac Ryan said:
"I am delighted to be part of this year's WIMS Live initiative to celebrate World Mental Health Day. WIMS Live is a great opportunity to tackle the stigma and misconceptions surrounding mental health difficulties, particularly those that may be less understood."
"Through my own mental health journey, I found that there was a lack of understanding around men's experiences of eating disorders, which made me feel very isolated and I believed that I was the only man experiencing this, which impacted my willingness to seek help. Having since sought support however, I am on my recovery journey, and by taking part in WIMS Live, I want to encourage and remind anyone out there who may be experiencing mental health difficulties to not let stigma stand in your way of seeking help."
Paul Gilligan, Chief Executive Officer of SPMHS, also said: "The theme of this year's World Mental Health Day campaign by the World Health Organisation is "make mental health and wellbeing for all a global priority", and, through our WIMS Live campaign this year, we want to work towards achieving that goal."
"Mental health-related stigma and discrimination are often a result of limited factual knowledge of mental health and wellbeing. By encouraging people to learn and understand more about the diversity and complexities of mental health difficulties, we can work towards a society free of mental health stigma both nationally and globally, where mental health and wellbeing is at the fore."