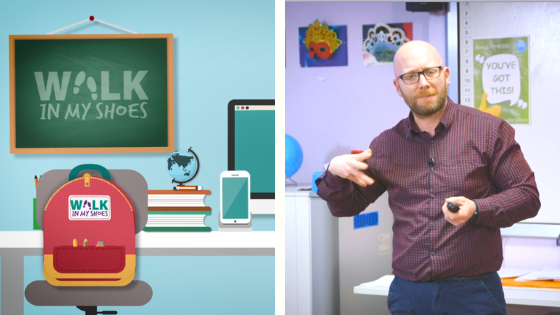 Our brand new classroom presentation empowers students with skills to take care of their own mental health.
On #MindYourSelfie Day 2020, Walk in My Shoes is launching brand new classroom presentations to empower students with skills to take care of their own mental health.
Hosted by Dr Colman Noctor, Child and Adolescent Psychotherapist, the presentations give meaningful and practical ways that young people can look after their wellbeing. Designed to be played in the classroom, versions for both primary and secondary school level are now available for any teachers and school staff to access and use.
In the presentations, Dr Noctor explains that, while childhood and adolescence are exciting times in our lives, they can also bring new experiences and different pressures which can be stressful or challenging – such as dealing with our home or school lives, growing relationships with friends or family, or navigating social media, for example. A central message he leaves behind is that, while we can't control what happens to us, we can control how we respond to it, so it's important that we develop the skills to enable us to do this proactively and positively.
To help with building these skills, Dr Noctor addresses everything from building resilience and valuing our sense of self-worth, to understanding the relationships we have with ourselves and dealing with comparison culture. The presentation also contains prompts for classroom discussion and exercises which students can work through.
Five key topics
The key topics Dr Noctor covers include:
Watch the presentations here
The presentations mark the latest addition to a range of #MindYourSelfie resources, all of which are free to download and which include:
A series of guided relaxation audio exercises that introduce the practice of mindfulness to young people
Printable mindfulness colouring sheets that can help young people feel more relaxed as they stay focused only on the colouring task
Wellness Journals which provide young people with a template to record their feelings and thoughts and can be done as once-off or as a daily activity
A Wellness Activity Calendar with daily actions that young people can complete to promote positive mental health and mindfulness
A Selfie 'Steem activity which invites young people to share positive messages about one another
A Selfie Tips Origami Chatterbox, which is a game that helps young people to think positively about themselves
A series of free eBooks designed to give teachers practical tips and advice in relation to mental health
A Wellness Wall banner that serves to create a space in schools or classrooms where everyone is welcome to read and contribute their ideas for wellbeing.
We want to get as many classrooms as possible using the new presentation. To help raise awareness of this and all our resources, please share the link on social media, using the hashtag #MindYourSelfie, and tagging @walkinmyshoes on Facebook or Twitter, and @stpatricks_wims on Instagram in your posts.
For more information on the new presentation or any of our resources, please email info@walkinmyshoes.ie.