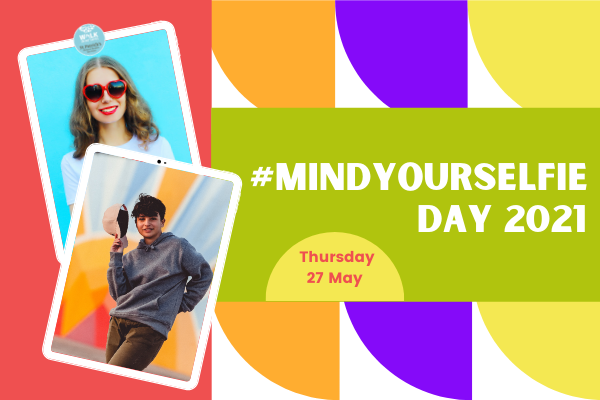 Walk in My Shoes (WIMS) is delighted to announce that we are holding our sixth annual #MindYourSelfie Day on Thursday, 27 May 2021.
#MindYourSelfie Day is a social media campaign designed to open up conversations about and encourage positive attitudes towards mental health.
We're inviting you to share your photographs and experiences of how you've learned to #MindYourSelfie during the COVID-19 pandemic. We'd love as many people as possible to use and see the hashtag so that we can spread positivity and show support for one another as we go through these strange times together.
Taking to social media
In 2020, #MindYourSelfie's upbeat message reached over 5 million people on social media – and, this year, we want to go even bigger!
On 27 May, join us on Instagram, Twitter and Facebook to tell us about who, what and where have helped you to mind your mental health and stay resilient during the challenges of a global pandemic. Simply tag our accounts and use the hashtag #MindYourSelfie to join in the conversation and be in with a chance to win in our draw for a €200 One4All voucher.
From living through lockdown to missing our friends and family or dealing with ill health and grief, we have faced a lot of sudden changes over the last year. Now, as we prepare to ease restrictions and begin returning to a more normal way of life, it's time to celebrate how far we've come together.
Our Project Manager, Amanda McArdle, said:
"Who has boosted your mood when things felt tough? Where did you go when you needed to clear your head? What hobbies or activities have helped you let go of worry? We're inviting you to take part in #MindYourSelfie so we can look back on all we've learned in the last year and the wellbeing tips and tricks we'll be taking with us".
Learning from others
After a difficult year, lots of us are looking forward to coming out of lockdown and re-engaging with all we've been away from.  At the same time, many of us will be feeling nervous or uncertain about going back to old ways or being around new people and places again.
So, to mark #MindYourSelfie Day and to help us prepare for this new stage, we've invited a range of young people's organisations and interest groups to come together in a live event at 11am on 27 May. We'll be exploring some of the key learnings from the last year and the tools and resources you can use to #MindYourSelfie and readjust to change in the weeks and months ahead.
Speakers include:
Caroline O'Sullivan, Director of Services, Irish Society of Prevention of Cruelty to Children
Timmy Hammersley, Head of Engagement and Participation, SpunOut
Mary Mooney, Coordinator, Comhairle na nÓg
Sinéad Kane, Communications and Advocacy Manager, BelongTo
Amanda McArdle, Project Manager, WIMS
Dr Aideen O'Neill, Clinical Psychologist, St Patrick's Mental Health Services (SPMHS)
Brian Boyle, Coach, Shelbourne Youth Academy. 
Ryan Klatt, a graduate from our most recent Transition Year Programme, will moderate the discussion on the day. 
Tickets are free but registration is essential; book your place now.
Speaking about the event, Paul Gilligan, Chief Executive Officer of SPMHS, said "the easing of restrictions will bring new, and much anticipated, opportunities to reconnect with friends and family. It may also create feelings of anxiety about getting back to socialising and being outside of the home. This may be especially likely for those who have experienced anxiety related to social situations before the pandemic."  
"We have all had to adapt rapidly to varying levels of change. Control over our own lives has been significantly reduced since the start of the pandemic, and we will need to rediscover our confidence and preparedness to take risks. For anyone who is finding the anticipation of increased social activity stressful, please be assured that this is normal, and that the psychological journey to recovery will take time." 
Preparing for life after lockdown
To help with #MindYourSelfie's aim of helping us to prepare for life after lockdown, we're sharing some advice for those who are feeling worried or anxious about the weeks ahead.
You can find our tips below. If you have any questions about #MindYourSelfie Day or want to find out more about how you can get involved, please email info@walkinmyshoes.ie.