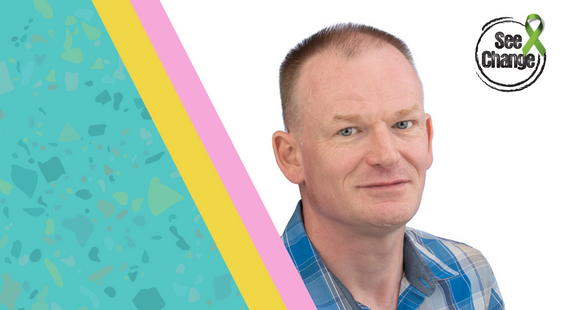 Gary Anderson, a See Change ambassador, shares his experience of living with schizoaffective disorder and recovery from it.
Fifteen years ago, I was a confident and social person who had a lot of friends who I regularly kept in touch with. I thrived on entertaining them. I was also especially close with my family and I was in contact with them frequently, informing them of how I was. I could not have been happier with my life.
Unfortunately, though, things gradually changed for the worse.
First signs of a mental health difficulty
First, I lost my job after being let go. With this, I no longer had a purpose in life, but I still continued seeing friends and family. Then, all of a sudden, I began getting misconceptions that both family and friends were talking about me in a negative way, and I believed they looked upon me with disdain. My world slowly began to crumble, and I decided to isolate myself from them.
I ignored all attempts - either by phone, text message or social media - from everyone who was once close to me. Numerous times, they would visit me at my one-bedroom apartment but I refused to answer the door. My apartment made it all the more easy for me to ignore them, as I lived in a tenement building: my flat was within a house and there was no way for them to directly knock on my door.
My sister eventually called the Gardaí after worrying about whether I was alive or dead due to complications with my Type 1 Diabetes. The Gardaí contacted my local post office where I collect my Jobseekers Benefit and found out that I was still collecting it every week. They then informed my sister that I was alive.
As I was isolating myself, I began to lose all interest in my personal hygiene and rarely shaved, washed or groomed myself. I immersed myself in using my computer and would watch countless videos of true crime; because of this, I seldom slept. I would stay up all night watching these videos. The very few times I did leave the house was for claiming my benefits and shopping for food.
While I was outside, I would be deluded that I heard voices from people who I passed, talking about me. I eventually began to believe everyone was talking about me. Then, I started to believe that my upstairs neighbours had a key to my apartment and was going into my abode and taking stuff such as CDs and DVDs, which I had a large collection of. I would go to the local convenience store and would run there and back as quickly as possible to either catch them or stop them from entering. I then decided to turn on the webcam on my computer every time I left and would watch what it filmed. Of course, I never found any evidence of this.
Looking back at this now, I should have been aware that my head was not in the right place. But, at that time, you believe all your delusions.
Subsequently, for some reason, my Rent Supplement stopped and I did not know what to do to correct this. I panicked and worried about it and I didn't recognise how to correct it. I ended up having to pay my rent with my Jobseekers Allowance and this left me short of money. I lived about eight months doing this and I was barely eating. I lived off two or three evening meals a week, with breakfast cereal in the morning. In between these days, I would eat slices of bread and confectionery to keep me sustained. It wasn't long before my health started to suffer with my diabetes and I lost an incredible amount of weight. I would have low sugar spells and pass out frequently.
My next dilemma arrived with a letter from the landlord, stating that they were selling the property and I had only four months to vacate my apartment. This had me at my wits end with all of the delusions, voices and now I had to vacate the premises from which I lived and breathed. I was in a high state of stress.
Getting a diagnosis
Now, as a Type 1 Diabetic, it is usual for you to be attending a diabetic day centre where they monitor your health. They check your bloods and look out for any complications that may occur. I decided to attend one of my appointments and the nurses and diabetic doctor took an interest in my failing health as I was losing so much weight. I spoke with a diabetic nurse and opened up about all of my problems, revealing that I rarely left the house, how I was financially in debt, how depressed I was feeling and how little I ate.
I was fortunate enough for the hospital which the diabetic day centre was in to take me seriously. They referred me to my local mental health services team. I was also given an appointment with the hospital social worker, who managed to arrange some financial assistance by paying my electric bill that amounted to over €800, which I could ill afford. Furthermore, she helped me fill out forms to get my Rent Supplement reinstated and put me in contact with Threshold, a national housing charity. Threshold managed to negotiate a further six months of me staying in my apartment.
I was attending my local mental health team where I talked with a psychiatrist and divulged how stressed and depressed I was. I kept all of my delusions to myself, still believing that my neighbours were entering my apartment. I was prescribed antidepressants which, after a few weeks, lifted my mood but didn't ease my isolation.
It took around eight months before I had the misconception that people were spying on me and following my every move. Whenever I was out, I was busy looking all around me for people that were following me and felt I was under intense scrutiny. I became fearful of my every move and revealed this to my psychiatrist, confiding all about the hallucinations I was having. This was when I was diagnosed with Schizoaffective Disorder and given antipsychotic drugs; my hallucinations finally disappeared.
Beginning recovery
Following on from my diagnosis, I was also advised by my psychiatrist to attend psycho-educational classes at The Recovery Hub, which was a community-based mental health day centre in North Dublin. I was informed these courses would help with my recovery. The first one I tried was the Decider Course which was a six week class, providing skills on beating anxiety, depression and paranoia. The course uses both cognitive and dialectical behaviour therapies. It teaches you different techniques in overcoming your highly-strung emotions and how to relax. I completed the programme and felt more at ease with myself.
This encouraged me to do more psycho-educational classes to learn more. Other courses I did were on Anxiety Management, Meditation and Mindfulness. But the best programme I found in managing my mental health has been the Wellness Recovery Action Plan, or WRAP for short. This helps you recognise and monitor your triggers that make you feel unwell and organises you to devise a plan customised to your own needs. The scheme allows you to take control of your mental health by recognising your early warning signs of having a mental breakdown and neutralising it.
I have been helped by this plan to ward off any signs of depression and paranoia as it is personally tailored to me. Not only does it help in warning you of early signs, but, additionally, it can help when things go seriously wrong and you are in difficulty. It does this by alerting a close friend or family member to recognise the signs and prepare you to do as you previously instructed in your plan. If you are interested in doing a WRAP course, you can ask your mental health team or search online.
Managing my symptoms
Other ways I have managed to keep my symptoms away is to structure my days full of tasks and activities and to keep to a routine. These routines are just simple things like organising housework, going for long walks, doing mindfulness, and keeping in touch with family and friends. In addition to this, I always ensure I get enough sleep each night.
What I have learned through my recovery, most importantly, is to be open and honest with both close family and friends and your mental health team by relaying how I may be feeling or what I'm experiencing, then giving priority to any stressful situations that may worsen my condition.
It's paramount to remember that recovery is a lifelong undertaking as there will always be something new to learn.
Gary is an Ambassador with SeeChange, Ireland's organisation dedicated to ending mental health stigma. The views and opinions expressed here are the author's own.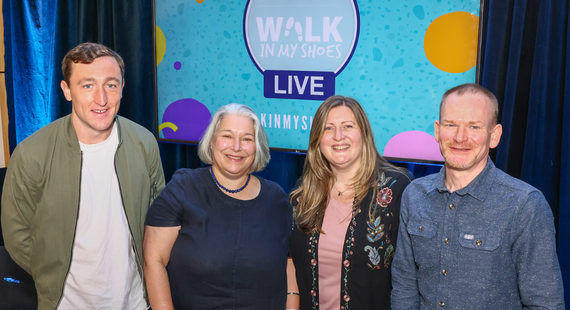 Find out more
Gary kindly shared his experience as part of our WIMS Live campaign. You can learn more about schizophrenia and psychosis, or see more mental health information and lived experiences from WIMS Live below.