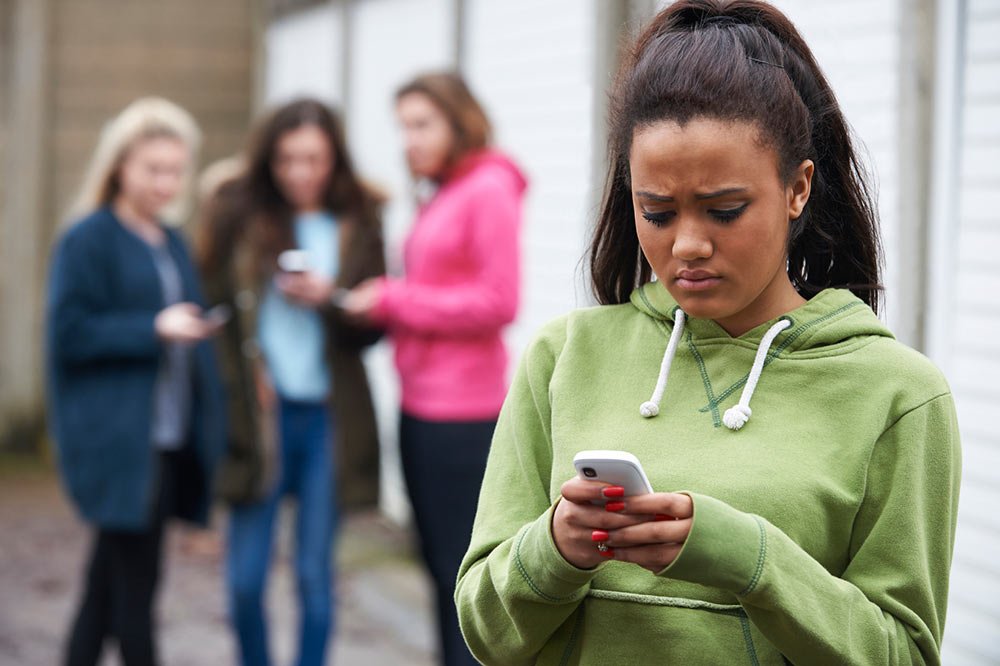 What is cyberbullying and how can we prevent it? We take a look at how to stay safe and mentally healthy online.
What is cyberbullying?
Cyberbullying has been defined as "an aggressive, intentional act carried out by a group or individual using electronic forms of contact, repeatedly and over time, against a victim who cannot easily defend him or herself".
Cyberbullying does not involve face-to-face or physical confrontation. It does not require any close proximity to the cyber victim. Cyberbullying can also be carried out anonymously.
Disinhibition, or a loss of inhibition or restraint, exists. This can mean:
young people say and do things online that they would never do face to face
they perceive the Internet as an environment free from adult supervision.
The fear of discovery is absent. This fear which may control their behaviour in the real world does not control it in the cyber world.
There is a disassociation (a detachment or disconnection) with the turmoil that the cyber bully causes the cyber victim: not experiencing the harm that cyberbullying causes means that the cyber bully may have no empathetic response at all.
What are the signs of cyberbullying?
Cyberbullying can affect you in a number of ways. It can leave you feeling anxious, depressed or sad. You may have difficulties sleeping or focusing in school, and you may experience other stress-related disorders.
Signs of cyberbullying may include:
changes in mood, behavior, sleep, or appetite
fears about going to school
spending more time alone, or reclusion
avoiding computers, phones or the Internet.
How is cyberbullying carried out?
Cyberbullying can take place in a number of online spaces.
Examples of places where young people can experience cyberbullying include:
Social media and websites: secret or personal details being revealed in an abusive way, or nasty or unpleasant comments being posted.
Instant messages: abusive instant messages (such as on social media, WhatsApp, Telegram, MSN, Yahoo and so on)
Chat rooms: intimidation or abuse when participating in chat rooms
Text or SMS: sending or receiving abusive text messages by mobile phone
Calls: sending or receiving upsetting phone calls (such as malicious prank calls)
Multimedia or MMS: taking, sending or receiving unpleasant photos and/or videos using mobile phones (such as happy slapping)
E-mail: malicious or threatening emails directly to a victim, or about a victim to others.
The nature of cyberbullying can take different forms too. Some examples of types of cyberbullying include:
Harassment: repeatedly sending nasty, mean, and insulting messages
Flaming: online fights using electronic messages with angry and vulgar language
Denigration: "dissing" someone online, sending gossip or spreading rumours about a person to damage their reputation or friendships
Impersonation: pretending to be someone else and posting material to get that person in trouble or danger, or to damage that person's reputation or friendships
Outing: sharing someone's secrets or embarrassing information or images online
Trickery: talking someone into revealing secrets or embarrassing information, then sharing it online
Exclusion: intentionally and cruelly excluding someone from an online group
Cyber stalking: repeated, intense harassment and denigration that includes threats or creates significant fear.
How can we prevent cyberbullying?
Young people
If you are a young person, there are some steps you can take to prevent cyberbullying or to deal with cyberbullying if it happens to you.
Don't reply!
Screenshot and keep the messages.
Block the sender.
Tell someone you trust.
Get support: you can visit the Webwise website to get helpful information on staying safe online or, if you need to talk to someone, check in with Childline Ireland.
Report problems: if you come across serious issues, you can report them to Hotline.ie. The service is run by the Internet Service Providers Association of Ireland and is supervised by the Department of Justice, Office for Internet Safety, in cooperation with An Garda Síochána, and is a member of INHOPE, the International Network of Hotlines.
Parents and guardians
Parents, carers or guardians who are worried that a child or young person may be experiencing cyberbullying can:
Talk to them about internet safety
Monitor their online activity, and let them know that reported cyberbullying episodes will not result in loss of technology
Discourage young people from responding to the bully, as this only antagonizes the bully and the situation
Keep evidence of the cyberbullying as a record of what has happened
Contact the Internet Service Provider (ISPs), which may result in the cyber bully having their services suspended.
Inform the child's school.
Contacting the police may be necessary if the cyberbullying involves threats of violence, harassment, child pornography, extortion or obscene calls or texts.
Bystanders and witnesses
Bystanders or witnesses to cyberbullying are the people who receive messages about someone else or see it posted. By not responding or encouraging the cyberbullying or by reporting it to an adult, they can assist the person being bullied.
Silence, when others are being hurt, is not acceptable.
What is netiquette?
"Netiquette", or online etiquette, means applying the same social criteria of face-to-face interaction in the online world.
Before posting online, ask yourself:
Who will be able to see what you post?
Will anyone be embarrassed or hurt by it?
Are you proud of what you're posting?
How would you feel if someone posted it about you?
Remember that you will be held responsible for any inappropriate or questionable content that you publish!
Do not send or share any content that:
may call into question your integrity
may be misinterpreted as offensive or inappropriate
could damage your reputation with your friends
be punished by your parents
OR you may also get into trouble with the law!
Is there internet safety legislation?
In Ireland, any specific legislation governing Internet safety at school level has not yet been implemented. It is also important to remember that the Internet functions in a global context, whereas the law operates in a localized one.
However, in 2022, a new Online Safety and Media Regulation Act 2022 was signed into law with the aim of improving children's safety online. This law will appoint a new Online Safety Commissioner (OSC). Some further steps are still needed for the Act to commence.
There are a number of existing laws that have relevance to Internet safety: