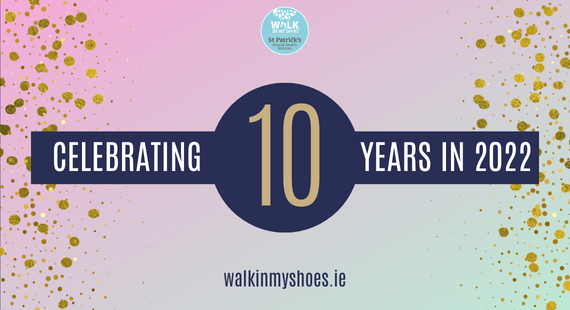 At Walk in My Shoes (WIMS), we're excited to celebrate our 10-year anniversary with a special 10-day social media initiative.
We were founded as the flagship awareness-raising and mental health education campaign of St Patrick's Mental Health Services (SPMHS) in 2012. Since then, we've won multiple awards and reached tens of thousands of people across Ireland to educate young people about positive mental health, to tackle stigma, and to change perceptions of mental health.
#10DaysOfWIMSmas
To celebrate this, and just in time for the Christmas season, our #10DaysOfWIMSmas social media initiative will see us looking back at our highlights and sharing helpful mental health resources from the last 10 years.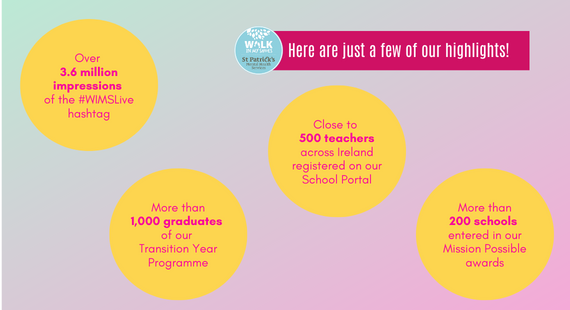 Chief Executive Officer of SPMHS, Paul Gilligan, said: "We are delighted to be launching our new Christmas campaign today to mark 10 years of the WIMS campaign and to share practical mental health resources for young people ahead of the festive season."
He explained, "WIMS was founded in 2012 when a young man in SPMHS said he wished his friends could walk in his shoes to understand how he was feeling, and, since then, the campaign has grown significantly to become one of Ireland's leading mental health awareness campaigns at the forefront of educating and empowering young people to live mentally healthy lives, and challenging stigma."
Our long-time friend and supporter, U2's Adam Clayton, sent a video message to commend WIMS on this milestone and to begin the #10DaysOfWIMSmas. Adam, who was our first WIMS ambassador, coming on board in 2012, congratulated WIMS on "putting the nation's mental health awareness first".
Youth mental health
Mental health promotion plays an important role in helping young people to develop skills and tools to enhance their mental health and wellbeing, and to build resilience in challenging times. This has become even more critical in the last number of years, as young people grapple with the mental health effects of the COVID-19 pandemic, the impact of climate change, the impact of the war on Ukraine, and the cost of living crisis.
Paul Gilligan said:
"With Christmas just around the corner, a time which can be difficult for many, it is important for all of us, including young people, to protect our wellbeing by utilising the positive coping skills available to us. These might include focusing on what's going on for the next few days, rather than looking too far ahead; doing one thing a day that you enjoy; and asking for help and talking to others."
"We know that adolescence is an optimal life stage for implementing effective mental health promotion strategies, and, through the work of WIMS, we aim to educate people from an early age about how we can reduce stigma, as well as supporting young people to build the skills and tools to help support their own positive mental health and wellbeing."
Social media
You can join in our 10-year anniversary celebrations and get all our free mental health supports by following the hashtag #10DaysOfWIMSmas across our social media. You can find all our social media channels below.
We'd love to see some of your favourite WIMS memories from the last 10 years too: don't forget to tag us!
Infographic
See some highlights of the last 10 years in our WIMS infographic below.