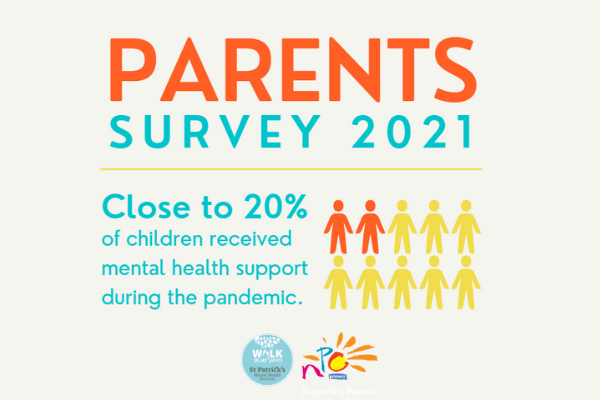 Our recent survey shows that 55% of parents have concerns about the long-term impact of the COVID-19 pandemic on their child's mental health.
A recent survey shows that 55% of parents to mostly primary school age children have concerns about the long-term impact of the COVID-19 pandemic on their child's mental health.
The survey, which we at Walk in My Shoes (WIMS) carried out in partnership with the National Parents Council Primary (NPC), saw nearly 2,000 parents explore their concerns for their children's mental health following the COVID-19 pandemic. Some 85% of parents who responded had children aged between five and 12 years.
Some other key findings reveal that:
Almost 20% of children received some form of mental health support over the course of the pandemic, including private counselling (6%), Health Service Executive (HSE) community supports (3.5%), school counsellors (2.7%) and local clubs (2%)
30% of parents sought support or information about their children's mental health during the pandemic, mostly from online sources (61%), their GP (57%), or teachers (50%)
25% of parents are concerned about their child's readjustment as society opens up over the next few months
Anxiety (60%), coping strategies (44%) and isolation and loneliness (41%) are the top three areas where parents feel they need assistance to support their child's mental health
Social media overuse (26%) and stress (27%) are areas of concern for parents.
The survey findings also highlight parents' worries about their children developing trust issues as a result of public health restrictions; this stems from changing plans and last-minute cancellations, as well as lack of trust in themselves and others in adhering to public health guidelines. Lack of physical connection, aggression, lashing out, and establishing and maintaining good relationships with friends and peers are among other worries parents hold for their children.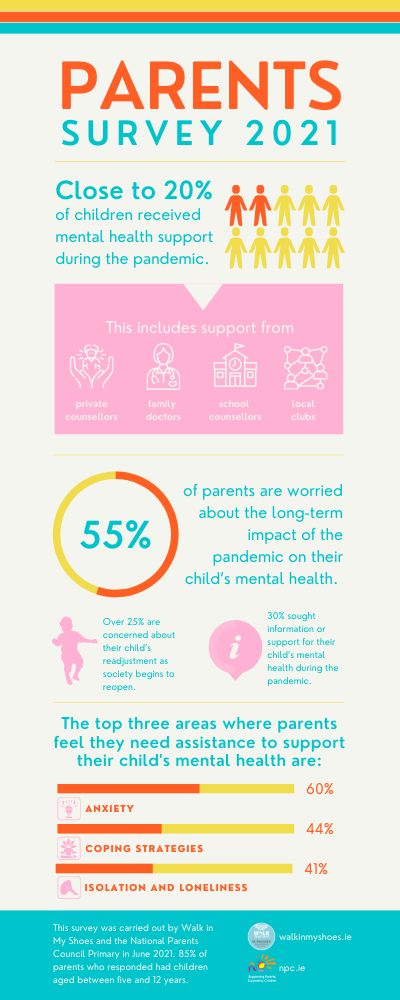 Giving reassurance
This is the second year in a row that we have conducted a survey with the NPC to specifically gain insights into how COVID-19 is impacting young people's mental health; you can see the 2020 results here. Completed between 8 and 30 June, it was issued to over 9,000 parents on the National Parents Council Primary network.
Speaking on the survey results, Paul Gilligan, Chief Executive Officer of St Patrick's Mental Health Services (SPMHS), said: "Children's mental health has been a serious concern for everyone throughout this pandemic, so it is understandable that up to 55% of parents worry about the long-term impact that restrictions have had on their children. It is important, therefore, that parents feel reassured that support is available and that, overall, young people have shown incredible strength and resilience during this time. The next step is to use these findings to inform how we support parents and children going forward."
Áine Lynch of the NPC added, "while the results of this survey have illustrated an understandable level of concern about children's mental health among parents, it has also shown that parents are actively seeking and engaging in ways to support their child's mental health at this time and to address their concerns, whether that be online via mental health websites or through a GP, teacher or friends and family."
"We are pleased to once again partner with WIMS for this important piece of research that can inform how we, as a society and as individual organisations, can support and guide parents as they help their child navigate the current landscape to which we are all adapting."
Responding to parents' concerns
We are hosting a free webinar for parents on 27 July, exploring how parents can support their children's mental health. The webinar will have a specific focus on the top three concerns identified by parents in the survey findings. These include coping strategies, managing children's anxiety, and supporting children through loneliness and isolation.
Speakers include clinical psychologist and CEO of SPMHS, Paul Gilligan; Áine Lynch, CEO of the NPC; and Cliodhna McDonnell, Founder of Doing the Best We Can, a peer support network for parents and guardians.
Find out more about the webinar here
Get more supports for parents