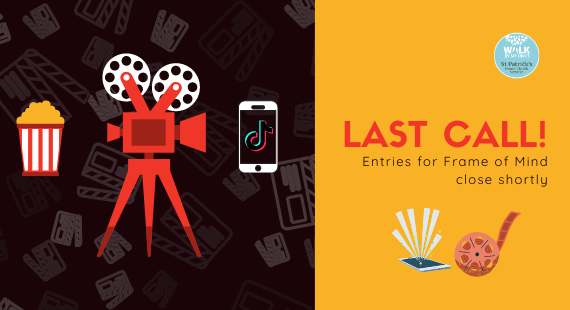 Secondary schools and general amateur filmmakers can submit their short films and TikToks by Friday, 5 February.
Creatively challenging mental health stigma
If you or your school feels like channeling your inner Stephen Spielberg or Bonnie Rose, now's the time to enter our Frame of Mind short film and TikTok competition before the deadline wraps on 5 February.
Frame of Mind uses film as a creative way to challenge mental health stigma or show the importance of positive mental health.
Secondary schools and general amateur filmmakers can enter the competition, with prizes of €1,000 for the winners of each of its three categories.
General filmmakers can create and submit a short film, three minutes or less in length, while secondary schools can choose between entering short films, TikToks or even both!
Each short film should centre around an empowering wellbeing message, tackle common stereotypes around mental health or confront the stigma that people experiencing mental health difficulties can face. Meanwhile, TikToks can showcase the ways students and teachers are supporting one another, practicing self-care, or dealing with the challenges of COVID-19 lockdown and uncertainty.
Of course, with everyone's safety in mind, we're encouraging you to make your creations in line with public health guidance and restrictions, and all the innovative ways of capturing your work - whether filming people remotely, using animation or trying something completely new – will be more than welcome!
All entries must be sent to us by 5pm this coming Friday, 5 February 2021. A panel of judges, including film industry experts and mental healthcare professionals, will shortlist entries ahead of an awards announcement on Wednesday, 24 February.
What are the categories?
The competition's three categories are:
General: General amateur filmmakers can enter this category with a short film that explores mental health
Secondary School | TikTok: This category is for secondary schools submitting a TikTok under 60 seconds in length
Secondary School | Short Film: This category accepts entries from secondary schools which create a short film with a mental health message.
How can I apply?
Applying is quick and easy. Just send your files to info@walkinmyshoes.ie using WeTransfer, and take a few minutes to complete the entry form to finalise your application.
If you have any questions about your application, please email our Project Manager, Amanda McArdle, at info@walkinmyshoes.ie.
Click here for more information on the application process or to see the Frame of Mind terms and conditions.