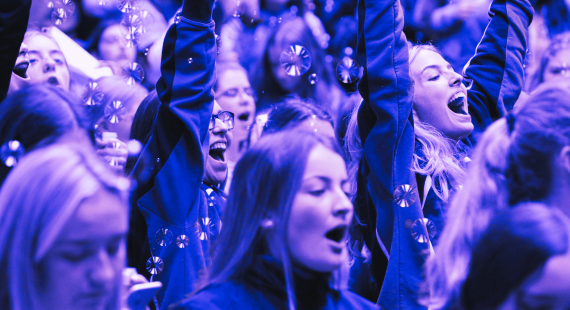 We hear from the team behind The Shona Project, which works to empower teenage girls in Ireland.
The teenage years are a really important time in our development. There are lots of transitions and physical, social, and emotional changes that young people experience in adolescence, such as moving from primary to secondary school, going through puberty, dealing with different family and life circumstances, and more.
Adolescence is also significant in terms of mental health and wellbeing. It is a time when young people develop the tools and habits that support their wellbeing, like building our coping skills, managing our emotions, developing relationships, learning to problem-solve and so on. For some young people, they might face mental health difficulties in their teen years.
While these changes and developments can affect all young people in different ways, research suggests that young girls can experience higher rates of emotional difficulties or symptoms of some mental health difficulties, like anxiety and depression. Throughout life, women and girls also continue to face a number of barriers and social norms around gender, sex and age which can have a negative impact on their rights and opportunities.
Making sure to support and empower young girls makes a real difference then in promoting and protecting their wellbeing and ensuring they have full, equal opportunities in both their adolescence and throughout their future.
The Shona Project is an award-winning, non-profit organisation that aims to educate and inspire today's Irish girls to become tomorrow's resilient, capable, and confident young women.
In this guest blog, Ellen Conway, Communications Manager of The Shona Project, takes us through the aims of the project, and explores some of the ways that schools can get involved in it.
What is The Shona Project?
The Shona Project is the beginning of a movement for better outcomes for young girls, such as improved mental health, greater resilience, positive self-image, stronger confidence, less trauma, and reduced self-harm. Ultimately, we aim to develop greater and stronger female leadership and participation across all walks of life.
We believe in the power of creating a supportive ecosystem for teenage girls, and core elements of this ecosystem are teachers and schools. We run multiple programmes that schools can engage with, many free of charge or at a low cost, in order to be as accessible as possible, ensuring the girls who need the support the most can get it.
What does The Shona Project do?
We conducted research with Thinkhouse PR and the Irish Second-Level Students' Union (ISSU), asking girls across Ireland how they were doing really. The research results were quite shocking. For example:
Only 20% of teenage girls feel as though they will have the same opportunities as boys
77% of teen girls in Ireland don't "feel beautiful"
Almost 60% agree that they have worries or anxieties that nobody knows about
84% think negative thoughts about the world around them
90% have negative thoughts about themselves.
Everything we do aims to empower young girls and make sure these kinds of results are no longer a reality.
Some of our key projects include:
Ambassador programme
Secondary school teachers can nominate young women in their senior cycle (fourth, fifth and sixth years) to take part in our Junior Ambassador Programme. Nominees are young women who teachers feel is kind, inclusive, motivated, trustworthy and confident in their ability to talk to and support their classmates. You can learn more about our junior ambassadors here.
Bathroom art
Bathrooms in schools can be a very scary place. Often, bathrooms can be somewhere girls go to hide from bullies or even a place where bullies hang out and create a negative experience for fellow classmates. We want to turn school halls and bathrooms into safe and positive spaces and to give girls themselves ownership over "re-branding" the bathrooms as safe havens. We offer a free stencil kit, which can be used by students in whatever way they wish. See more on our bathroom art resources here.
Newsletter
You can stay up to date with any new events or projects we are running and any other initiatives the team loves by signing up to our newsletter here.
School workshops
We offer two workshops. The first workshop is focused on influence, kindness, and mindset, and the second is focused on confidence and finding our voices. Workshops are a core way for our team to meet girls all across Ireland and build a powerful connection with them. You can request to book a workshop through this form.
Shine Festival
On 11 and 12 October each year, we bring together thousands of Transition Year (TY) girls to hear from amazing female role models and celebrate International Day of The Girl. Information on book to attend the festival can be found on the Shine Festival website. The website also has over 140 tailor-made, pre-recorded videos, along with class discussions and journal prompts, on topics such as women's health, women in sports, careers, the arts, activism and much more.
Survival handbook
Each year, we distribute 30,000 free handbooks to first year girls in secondary schools all over Ireland. This little guide is jam-packed with all the information a first year student would need to help them thrive in their transition from primary school to post-primary school. All teachers need to do is to let us at The Shona Project know how many you need: you can find a form for the September/October 2023 delivery here.
How can you get in touch with The Shona Project?
Our Shona Project team believes in the power of building positive and close relationships with schools and teachers. You can get involved in the projects above, or reach out to us by emailing info@shona.ie; calling 086 014 4728; or following @shonadotie on all social media platforms.