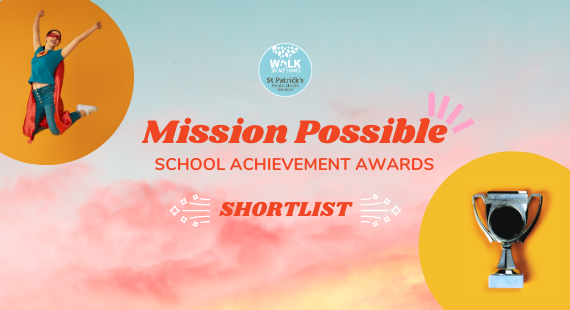 We are delighted to announce the shortlisted schools in our 2021 Mission Possible school achievement awards.
Awards categories
The awards fall under three different categories - Best Standalone Project, Most Creative Idea and Best Programme Activity; you can find more about what these categories cover here.
One primary and one secondary school will take the top place and a €600 prize in each category during the ceremony.
Best Standalone Project
This award celebrates a once-off project that displays the great work schools have done to promote positive mental health. 
Shortlisted primary schools

Ss Peter and Paul Junior National School, Balbriggan, County Dublin.
Scoil Treasa Naofa, Donore Avenue, Dublin 8.
St Patrick's Primary School, Lombard Street, Galway.

Shortlisted secondary schools

Heywood Community School, Ballinakill, County Laois.
St Joseph's Secondary School, Drogheda, County Louth.
St Patrick's Comprehensive School, Shannon, County Clare.
Most Creative Idea
This award marks out  the most inventive and fun ideas used to kickstart conversations about mental health and reduce stigma.
Shortlisted primary schools

Scoil Treasa Naofa, Donore Avenue, Dublin 8.
St Joseph's National School, Dundalk, County Louth.
St Oliver's National School, Carlingford, County Louth.

Shortlisted secondary schools

Cabinteely Community School, Cabinteely, Dublin 18.
Kildare Town Community School, County Kildare.
St Mark's Community School, Tallaght, Dublin 24.
Best Programme Activity
This award recognises programmes which involve a calendar of mental health activities to reach and support young people, teachers and the community.
Shortlisted primary schools

Cloonakilla National School, Athlone, County Roscommon.
Scoil Náisiúnta Muire, Dundalk, County Louth.
St Colman's National School, Cloyne, County Cork.

Shortlisted secondary schools

Christian Brothers Secondary School (CBS) Charleville, County Cork.
Gairmchoil Chú Uladh, An Clochan, Dhún na nGall (Cloghan, County Donegal).
St Patrick's Cathedral Grammar School, St Patrick's Close, Dublin 8.
Judging process
Now in its fifth year, the competition received more than 50 entries in 2021. To take part, teachers completed an online form outlining their projects and initiatives, and uploaded supporting material about these to our School Portal.
Entries are submitted to our judging panel, who mark them based off factors like how they fit with each category's brief, the ways in which the initiatives were implemented in schools, their outcomes and impact of the initiatives, and more.
This year, Emer O'Neill of RTÉ's Home School Hub joins us a special guest judge, along with Paul Gilligan, Chief Executive Officer of St Patrick's Mental Health Services (SPMHS) and Tamara Nolan, Director of Communications and Advocacy at SPMHS: you can meet all three judges below!
Paul Gilligan

Paul Gilligan is a clinical psychologist and Chief Executive of SPMHS, the largest independent provider of mental healthcare in Ireland. He is an internationally recognised children's rights and child protection advocate; provides consultancy services to a number of child protection organisations in Ireland and Europe; and is a regular contributor to television, radio and print media.

He is an Adjunct Assistant Professor in Trinity College Dublin. He is Chairman of Early Childhood Ireland and is a former Vice-Chairman of the National Children's Advisory Council. Paul is also a former President of the Psychological Society of Ireland (PSI) and a former Chairman of the Children's Rights Alliance. He was a member of the Government-established Vision for Change Independent Monitoring Group and Garda Vetting Implementation Group.  Before taking up his current post with SPMHS, he was Chief Executive of the Irish Society for the Prevention of Cruelty to Children. He is the author of two parenting books: "Keeping Your Child Safe" (2008) and "Raising Emotionally Healthy Children" (2015).  He is a Fellow of the PSI.

Tamara Nolan

Tamara Nolan is the Director of Communications and Advocacy in SPMHS. She heads up the team responsible for delivering on public education, awareness-raising initiatives and the WIMS campaign.

Before joining SPMHS in 2015, Tamara worked for 10 years in television research and production in Ireland, predominantly in RTÉ. She holds a Bachelor of Science degree in in Communications: Film and Broadcasting from the Technological University Dublin (formerly the Dublin Institute of Technology) and is a member of the Public Relations Institute of Ireland (PRII).

Tamara has two daughters - one in primary school and the other in secondary school - and this is her second year judging the Mission Possible awards.

Emer O'Neill

Emer O'Neill is a mother of two: Kyan is six, and Sunny Rae is nine months old. She was born and raised in Ireland and is Irish/Nigerian and a Bray, County Wicklow native.

Emer has a Bachelor of Arts degree in Education and a Masters Degree in Educational Leadership and Administration. She teaches Physical Education (PE) and is the Transition Year Coordinator at North Wicklow Secondary School in Bray.

In 2005, she received a scholarship to play basketball in the United States of America, prior to which she represented Ireland for basketball from the age of 13. Emer is also a model and was the winner of the SimplyBe Plus Size Modeling Competition in 2014.

Emer is currently a presenter on the Home School Hub on RTÉ, with her segment "Exercise with Emer".

Emer is a huge advocate for promoting positive body image. She is the ambassador for a programme called Free Being Me which is a programme with the Irish Girl Guides to encourage children to love their body and the skin they are in.

Emer is an anti-racism activist and hopes to bring awareness to the lack of diversity in the media, state jobs, positions of leadership and in our education system here in Ireland.

She is an ambassador for the Olympic Federation Ireland's "Don't Scroll By" campaign. This campaign challenges the Irish public and sports stakeholders to #deletbanreport any hate speech or discriminatory comments they see online. She has helped write the "Dare to Believe" programme which is part of the "Don't Scroll By" campaign and is honoured to have helped write the Anti Racism Continuous Professional Development (CPD) course with the Irish National Teacher's Organisation.
Ceremony
The awards ceremony takes place online at 2pm on Wednesday, 21 April.
Places are available at the ceremony for teachers, students and parents who would like to attend: click here to book your free ticket.
If you have any questions on the awards or ceremony, please email our Project Manager, Amanda McArdle, at info@walkinmyshoes.ie.