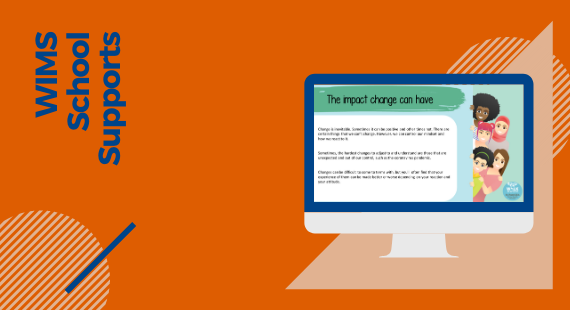 We are delighted to release the first in our new series of classroom resources to support primary and secondary school students across Ireland with returning to school.
Walk in My Shoes (WIMS) is delighted to release the first in our new series of classroom resources.
Our 'WIMS School Supports' series provides sets of presentations and lesson plans designed for teachers to use in the classroom to support students with transitioning back to school under the unusual and challenging circumstances of 2020.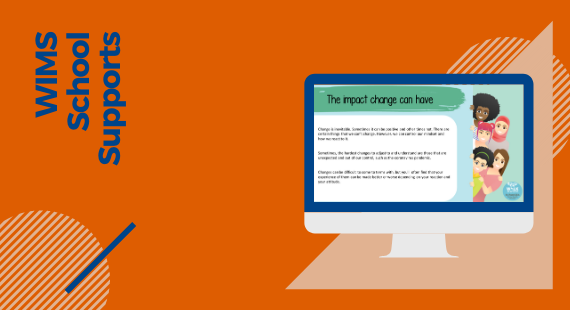 The first set focuses on dealing with change, and empowers students to develop coping skills and prepare for times of transition and adjustment. As well as responding to the normal changes we encounter in life – such as moving house or missing friends - the content intends to help students respond to the challenges and considerable transformations in their school experience with the impact of the COVID-19 pandemic.
Teachers can now download and use either primary and secondary versions of a classroom presentation, both of which are accompanied by a handout for students, activities and discussion points.
More information about the new WIMS School Supports is available below, with further presentations exploring a range of important topics to be released throughout the 2020/21 academic year.
Download our 'Dealing with Change' classroom resources now
Primary school support

The 'Dealing with Change' primary school presentation is suitable for all primary classes; however, older students – such as those in fifth or sixth class – may find the secondary school presentation more beneficial.

After the presentation, students will be able to understand the impact of change and develop ways to cope with it. From start to finish, it takes approximately 30 minutes, although additional time may be given for students to take part in the discussion point. We recommend that teachers bear their students' personalities and circumstances in mind when using the discussion point and activity accompanying the presentation.

Secondary school support

The 'Dealing with Change' secondary school presentation is suitable for senior primary classes and all post-primary years; by the end of the presentation, students will be better equipped to describe the impact that change can have and develop coping strategies for this. It takes roughly 30 minutes to complete, with the option to give extra time to explore the discussion point in more detail. Teachers may wish to consider their students' personal circumstances when leading the related discussion points and activity.
Find and share more school resources
We have lots more classroom resources for primary and secondary school, while teachers across Ireland have been sharing their mental health and wellbeing ideas and tools on our School Portal. Find out more below.