20 Transition Year (TY) students from across Ireland are joining the Walk in My Shoes (WIMS) team this week as our annual TY Programme gets underway.
Positive impact
Every year, WIMS hosts five week-long mental health awareness placements, which sees TY students meet with and learn from clinical staff in St Patrick's Mental Health Services (SPMHS).
Amanda McArdle, WIMS Project Manager, said:
The TY Programme aims to educate students about mental health difficulties, break down stigma, and promote positive mental health and wellbeing. Every year, it is a privilege to see the energy and enthusiasm that students bring to learning about mental health.
Range of activities
Based in St Patrick's University Hospital (SPUH) in Dublin, students participate in approximately five sessions each day, with each session focusing on a different aspect of mental health. These sessions include everything from tours of SPUH; talks with Paul Gilligan, the Chief Executive Officer of SPMHS, and its Medical Director, Professor Jim Lucey; and cardiac first response training.
Students also get the opportunity to hear from various members of SPMHS departments and services – from nursing and pharmacy to advocacy and the Willow Grove Adolescent Unit – who share insights into their areas of work and practice.
An important part of the week sees the students take part in a mock multidisciplinary team (MDT) meeting. The MDT is a mental health team made up of members with different areas of expertise, who can combine their knowledge and skills to support people receiving treatment for mental health difficulties. MDTs meet regularly to ensure that service users' care plans are best suited to their individual needs, with TY students experiencing how these meetings work based on real-life scenarios.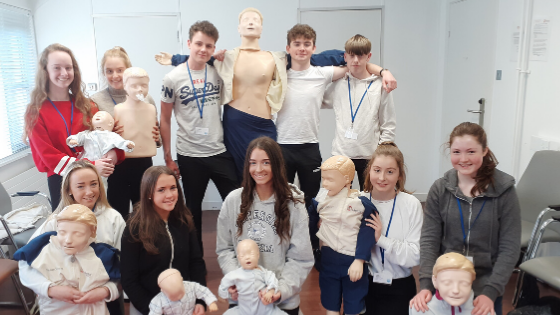 Future placements
The first week's placement under the 2019/2020 programme runs from 11-15 November, with a new group of 20 students arriving from 18 November for the second week. The remaining three weeks for the programme fall in January, February and March 2020.
Next May, all of the students completing the programme are invited back to SPUH for a graduation ceremony with a special guest speaker. Each student will receive a graduation certificate and leave the programme equipped to act as mental health ambassadors in their schools and local communities.
Applications for the 2019/2020 TY Programme are now closed; stay tuned to our website to see when registration re-opens.
Find out more about our secondary school initiatives