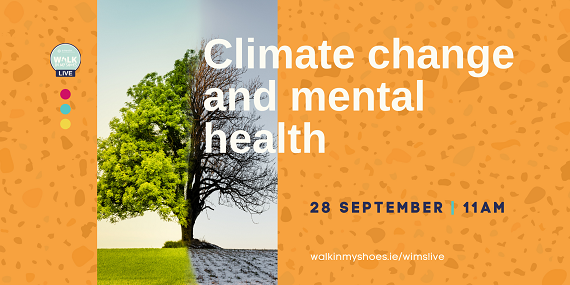 As the realities of climate change become increasingly clear, many of us are experiencing anxiety around the fate of the planet, those of us that inhabit it and what lies ahead for future generations. In this webinar we discuss some of the ways in which climate anxiety manifests itself in our day to day lives, how it's a natural response to a serious issue and how taking action can help to empower us and alleviate feelings of helplessness. 
As part of WIMS Live 2021, we invite you to take part in a webinar looking at the impact of the environment on our mental health and the anxiety that we feel about it.
Hear from a mental health expert, environmental activist and more as we tackle what, for many of us, is a growing and pressing concern.
The webinar takes place from 11am on 28 September; registration is free but essential. If you have any accessibility requirements for attending this event, please email these to info@walkinmyshoes.ie.
Click here to register your free place at the webinar