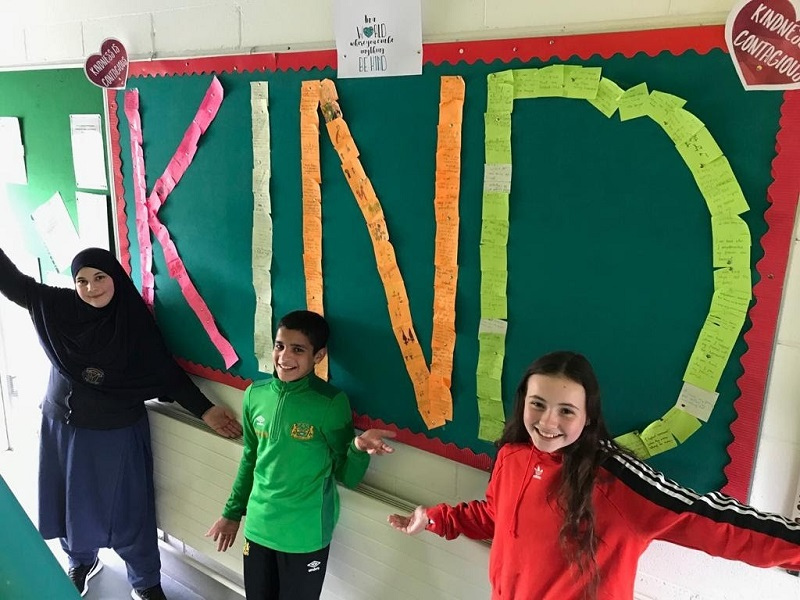 We learn lots of life lessons about kindness while we are in school. One Dublin teacher shares how their school spreads a culture of kindness.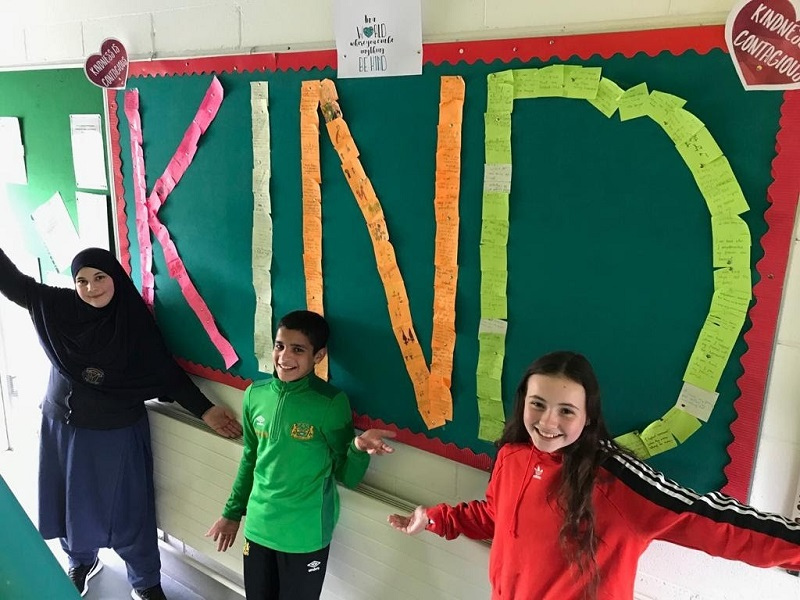 Lots of us learn lots of important life lessons about kindness while we are in school. Lorraine Spillane, a teacher in Scoil Treasa Naofa in Dublin's Liberties, shares how their school spreads a culture of kindness.
Scoil Treasa Naofa won a top prize in our 2021 Mission Possible awards which celebrate all the things do to raise mental health awareness.
See more about Mission Possible
Creating a whole school slogan
Scoil Treasa Naofa has always had a lot of fantastic wellbeing activities going on, from grounding techniques and mindful breathing to growth mindset and the Friends for Life programme. Given the added levels of stress and uncertainty the pandemic has brought, we knew everyone in our school community would benefit from a collective mental health initiative to unite all pupils and staff.
In our dynamic, multicultural primary school in the heart of Dublin 8, we have always placed kindness at the heart of our core values. The slogan "Spread Kindness" was born. Sixth class initiated the slogan with their Pay It Forward movie and soon it led to everything good happening. The slogan featured on our fundraising initiative of €2 silicone wristbands. An amazing Spread Kindness mural was also commissioned on our school shed.
Embedding a culture of kindness in our school community
To really embed this culture of kindness, sixth class sought to spread it schoolwide with a call to action for other classes, a challenge which was accepted wholeheartedly! Classes selected a challenge at random: kindness infused in poetry, song, drama, art, digital projects, story writing. A Zoom assembly celebrated all the fantastic activities that classes put together!
But it didn't stop there…
Kindness became the new currency for us; we are all the richer for it!
Children wrote about the times they were kind on post-it notes and this contributed to a notice board with the word "KIND" made from all their notes. Children also participated in a "Spread Kindness" calendar challenge and a kindness poster competition.
Marking our Fun Friday celebration day
The "Spreading Kindness" initiative culminated in one of the most memorable school days, a celebration of all our fantastic wellbeing efforts all year long - Fun Day Friday.
Children wore their brightest, most colourful clothes and enjoyed a jam-packed schedule. All entries to our art competition were assembled like bunting, forming an outdoor art gallery. We had pilates, mindfulness, a communal self-care chart, dis-dance, drumming, obstacle courses, drama lessons, Scouts, communal mural, weaving art activities, tie-dye t-shirt making, positivity rocks, collective kindness chain, mindful colouring, friendship bracelets, CUBE team-building exercises, and a Mickey Mouse picnic and even, to wash it all down, a lemonade stand.
The highlight for a lot of children (but maybe not for teachers!) was the Splash A Face contest whereby children got to throw a bucket of water at their teacher!
Prizes were given out to children who were 'caught being kind', the "Spread Kindness" calendar winners, and the kindness art competition winners.
Celebrating kindness
The "Spread Kindness" initiative was a fantastic success.
We couldn't have imagined just how infectious the words "spread kindness" could be.
We are so grateful for the support from Walk in My Shoes. It was an absolute privilege to be nominated for the Mission Possible school achievement awards; never in our wildest dreams did we imagine that we would win first place in the Best Standalone Project category. It was a wonderful recognition of our work and the highlight of our year in Scoil Treasa Naofa.
See more Spreading Kindness activities





Learn more about Mission Possible