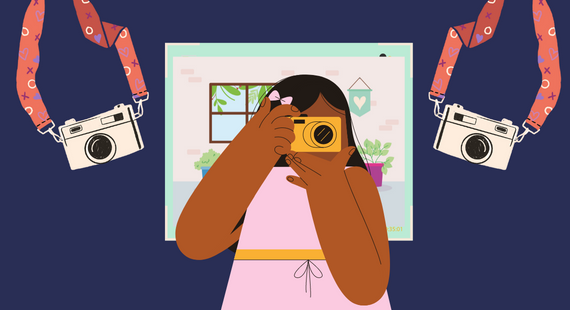 Secondary school students and their schools can win up to €1,000 each in our 2022/23 Frame of Mind photography competition.
At Walk in My Shoes (WIMS), we love to celebrate creative ways of raising awareness of mental health awareness, and our annual Frame of Mind competition is an important opportunity for this.
Our latest competition is now open for entries, with secondary school students across Ireland invited to capture their meaningful moments in a photograph with a positive mental health message.
Students have until February 2023 to take a snap of the different events and times in their lives that feel important to them. These meaningful moments can include anything from everyday things, like hanging out with friends, to more significant occasions, like achieving a personal goal or celebrating a family birthday. The photos entered should be snapshots that capture the feelings of happiness, comfort and enjoyment these moments bring and that celebrate the importance of positive mental health.
This is the first time that Frame of Mind has run as a photo competition. From its launch in 2014 to 2019, Frame of Mind ran as a short film competition, before adding TikTok categories in 2020. For the 2022/23 competition, Frame of Mind is getting a revamp to explore and harness another form of art and creativity in promoting mental health awareness.
WIMS Campaign Manager, Amanda McArdle, says "Frame of Mind aims to celebrate how we can express ourselves and inspire conversations about mental health when we explore our creativity. We're excited to run Frame of Mind as a photography competition for the first time."
"Most of us have cameras with us all the time on our smartphones, and we're used to taking and sharing photos every day; this competition is about encouraging students to build on that by stepping back, thinking about the photos they take, and, in doing so, feeling positive and grateful for the moments they capture."
She added: "We're looking forward to seeing students' entries to Frame of Mind and marking the meaningful moments which help us to understand and value positive mental health and wellbeing."
Applications
Applications for Frame of Mind are open until 5pm on Friday, 3 February 2023. Teachers must submit applications on behalf of the students entering the competition, with a judging panel then selecting 20 photos for the shortlist.
20 shortlisted entries will be displayed in an exhibition in Dublin's St Patrick's University Hospital, where service users and staff members will vote for their favourite entries. The three photos receiving the highest numbers of votes will be awarded the first, second and third place prizes.
Competition winners
Winners will be announced and celebrated at an awards ceremony in March 2023.
The winning students will receive a prize of €1,000 for first place and €500 for second and third place. In turn, their schools will also receive prizes of €1,000 for first place and €500 for second and third place.