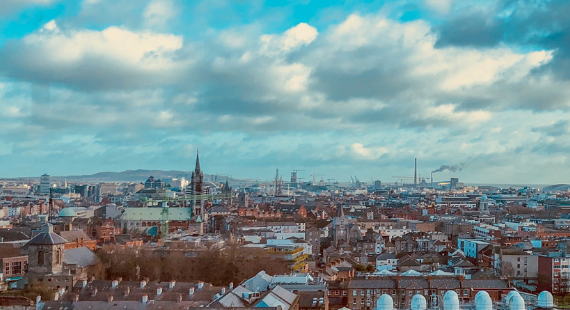 Walk in My Shoes is delighted to launch a pilot project which encourages students in Dublin 8 to learn about mental health from older people in their community.
Launching on 1 October to mark the International Day for Older Persons, Ways to Wellbeing is a collaboration with Smart D8 and is tailored towards primary and secondary school. It aims to foster local connections and to promote positive wellbeing and learning by enabling meaningful and rewarding conversations between young and older people in the community.
By participating, students will engage directly with older persons and seek to learn:
Ways to build and maintain wellbeing
How to build resilience
An important lesson that made a positive difference to their life.
Building local connections
306 students will take part in the pilot project, based in the schools below:
Scoil Treasa Naofa,Donore Avenue
Griffith Barracks Multidenominational School, South Circular Road
Scoil Mhuire gan Smál , Inchicore
St Enda's Primary School, Whitefriar Street
Presentation Secondary School, Warrenmount
Christian Brothers Secondary School, Synge Street.
Learning from older people
Some of the ways that students can engage with older people include interviewing family members in Dublin 8; writing letters to people in day centres or nursing homes in the community; and more. Students will then create projects, using different forms such as podcasts, written stories, film or photography, to showcase the connections between young and old and what they have learned.  
To help them get started with their projects, all students and their teachers received a Ways to Wellbeing project information pack outlining all the various approaches they can take.
At the end of the pilot, all students' projects will be added to our School Portal, an online platform that enables school staff to highlight and share what they are doing in their schools, classrooms and communities to promote positive mental health. A number of winning projects will then be selected and displayed in an exhibition in St Patrick's University Hospital, Dublin 8 over January and February 2022.
Following on from the roll-out of the pilot project in Dublin 8, it is hoped that the initiative will launch in schools across Ireland from early in 2022.
Supporting inclusion
Amanda McArdle, WIMS Campaign Manager, said: "WIMS is delighted to collaborate with Smart D8 to launch this exciting and innovative new project on a pilot basis across schools in the Dublin 8 community. Ways to Wellbeing is an opportunity for younger people to learn about wellbeing and resilience from the diverse experience and expertise of older people, while also promoting positive mental health in the older population through connectivity and inclusion."
Orla Veale, Lead at Smart D8, said: "Smart D8 is proud to partner with WIMS and St Patrick's Mental Health Services on the Ways to Wellbeing project. We are excited to see how this intergenerational initiative will impact positive mental health and wellbeing within the local community."
See more
Learn more about our campaigns and get our free wellbeing resources for schools.