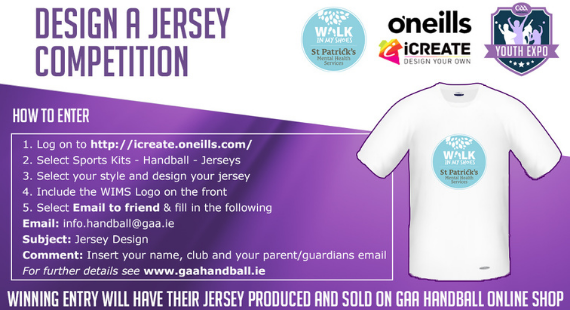 Walk in My Shoes (WIMS) is delighted to join forces with GAA Handball and O'Neills iCreate in a competition to design a new Juvenile Handball jersey.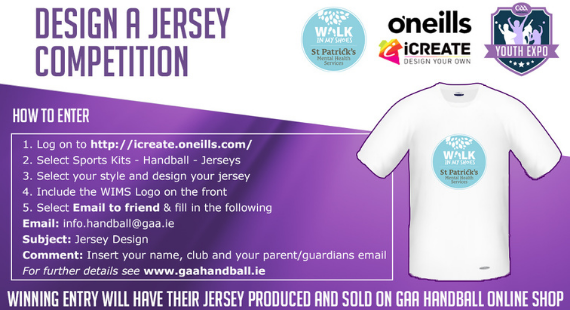 Walk in My Shoes (WIMS) is delighted to join forces with GAA Handball and O'Neills iCreate in a competition to design a new Juvenile Handball jersey.
Entrants to the competition are invited to use O'Neill's iCreate platform, customizing a jersey style and design. The winning jersey will be created and sold on GAA Handball's online shop, including the WIMS logo to help raise awareness of mental health among GAA Handball's young members.
Entering the competition
To design your jersey and enter the competition, all you need to do is follow the steps below before the closing date of Sunday, 18 April.
Log onto the O'Neill's icreate platform here, and go to 'Sports Kits', then 'Handball'.
Click 'Jerseys'.
Pick your favourite jersey style and begin the design process.
Insert the WIMS logo, which you can download on the GAA Handball website.
Click 'Email to a Friend' when you reach Step Three on the iCreate platform, then fill in the three boxes with the details below before clicking 'Submit'.

EMAIL: info.handball@gaa.ie
SUBJECT: Jersey Design
COMMENT: Enter your name, your club and parent or guardian's email address.
Entries will be voted on through Instagram voting until a winner is reached.
As well as having their jersey sold on the GAA Handball online shop, the winner will be invited to the new GAA Handball National Centre, when restrictions allow, to officially be presented with their jersey.
The winner will be given an exclusive tour of the new centre and get to practice on the courts, along with having professional photos taken in their new jersey, enjoying lunch in the Croke Park Hotel, and receiving an O'Neill's voucher.
Raising awareness
GAA Handball is an important part of the overall GAA structure, and is responsible for promoting and preserving the national game of handball in Ireland. Speaking about this partnership, its National Manager John Kelly said:
"We are delighted to partner with WIMS to raise awareness of the great work that they are doing in changing how young people think about mental health. A key part of the Youth Expo for us is to promote positive mental health among our younger members and to educate our young members about the supports available to them and I am confident that this collaboration will help to do that."
Our Project Manager, Amanda McArdle, explained that WIMS is excited to join in this partnership.
"WIMS is proud to be involved in this fantastic initiative, which offers young people an exciting opportunity to take an active part in promoting positive mental health, while also raising awareness about the mental health resources that are available to them. This initiative speaks volumes about how community and sports bodies like GAA Handball are working hard to nurture the wellbeing of their young members, and we are delighted to be part of this initiative."