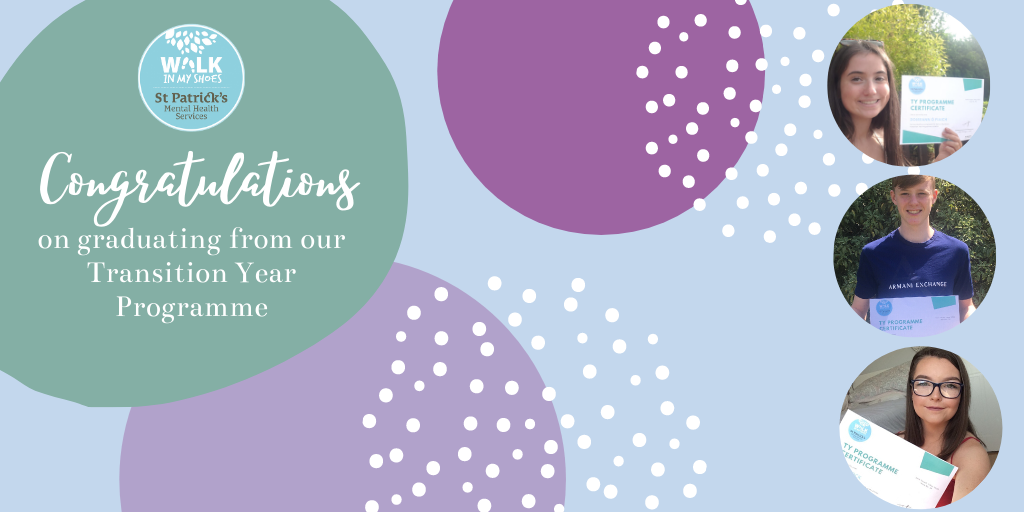 93 students graduate from our 2019/20 Transition Year Programme, and now emerge as mental health ambassadors for their schools and communities.
Bláthnaid Treacy leads in congratulating our new mental health ambassadors
Congratulations to the 93 students who have graduated from our 2019/20 Transition Year (TY) Programme, and now emerge as mental health ambassadors for their schools and communities.
Our Ambassador, Bláthnaid Treacy, has marked the students' achievements in a special graduation video, along with our Project Manager, Amanda McArdle, and the Chief Executive Officer (CEO) of St Patrick's Mental Health Services (SPMHS), Paul Gilligan.
About the programme

Each year, we run a TY Programme that invites students from across the country to take part in over 25 mental health awareness sessions over the course of one week each. The 2019/20 programme took place over five weeks from November to early March, with 93 students taking part.
To date, over 900 students have completed the programme, which is now in its tenth year.
The TY Programme is hosted by the adolescent mental health team and staff at St Patrick's University Hospital (SPUH) and open to all fourth-year students.  Participants undertake a range of classroom-based activities, including mock multidisciplinary team meetings with psychiatrists, psychologists, occupational therapists, nurses and social workers; cardiac first response training; and talks on topics including social media and mental health, pharmacology, advocacy, career pathways in mental health and many more. 
The 2019/20 sessions also introduced a presentation from a former service user who described her journey to recovery in SPMHS, serving as a reminder that recovery from mental health difficulties is always possible.
Graduation
The programme usually culminates in a graduation ceremony held in SPUH in early May. Instead, this year, as the COVID-19 pandemic continues to affect us all, we celebrated and shared well wishes with students in our graduation video. 
Addressing the students about their excellent achievement, Bláthnaid Treacy said:
"I want to say a massive congratulations to all the young people who completed the Walk in My Shoes TY Programme. A huge amount of hard work was put in by all the students and it's encouraging and affirming to see a new group of young people that can act as advocates for mental health."
Speaking about the programme and the importance of mental health, particularly in these uncertain times, Paul Gilligan said:
"Social isolation, not being able to see friends and family and anxiety about the pandemic have presented us all with great challenges and maintaining positive mental health is now more important than ever."
"Each and every student who took part in the TY Programme is now equipped to act as an ambassador of good mental health for themselves, their friends and families and their communities and I know that what the students have learned will stand to them in doing all they can in looking after their own wellbeing and supporting their friends and families now and into the future."
See photos from our graduating students
We invited our graduating students to submit selfies with their certificates, with everyone taking part being entered into a draw to win a voucher to mark their celebrations. The winning student, Ashik Prasad, told us "The TY Programme was a marvellous experience for me. It was very enjoyable and educational. Mental health is an important topic that we should be aware of, and I think it is great that this programme creates the opportunity for young people to learn and understand about this. The various talks and activities, including the cardian response training, were very informative and beneficial. It was a pleasure being part of this programme, and it has become a wonderful part of my TY." Click on Ashik's photo below to see the full gallery of our student selfies!





















Learn more about our school initiatives
Walk in My Shoes is an awareness-raising and education campaign of St Patrick's Mental Health Services, running a number of campaigns and events throughout the year to promote positive mental health to spark conversation, tackle stigma and foster wellbeing.