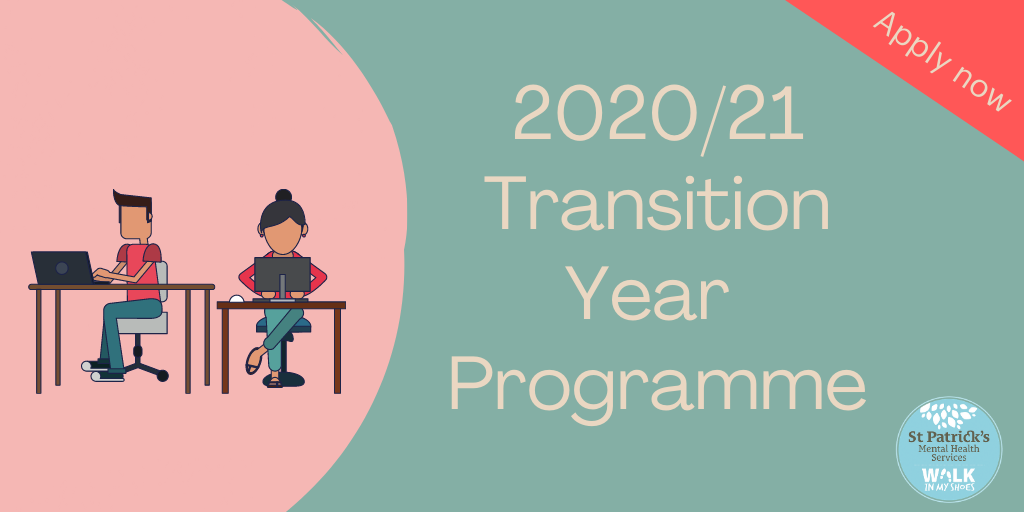 Our Transition Year (TY) Programme, which will take place online across the 2020/21 academic year, is now open for applications.
The programme is a one-week mental health awareness placement, conducted by clinical staff from St Patrick's Mental Health Services.
Following the outbreak of COVID-19 in 2020, and with everyone's safety in mind, we will run the upcoming programme online so that students can complete it remotely by attending a diverse timetable of virtual sessions throughout their dedicated week.
How the TY Programme works
Students taking part in the TY Programme attend one of five weeks of the programme, with places for 25 students available for each week.
The online programme includes numerous interactive elements and activities adapted for online delivery, including a mock multidisciplinary team (MDT) meeting, and new modules, such as mental health training. Students will also take part in project work to develop mental health presentations, which they will then deliver online during the programme itself and, later, in their schools when they return to class after it finishes.
Every session in the programme is imagined and designed with a virtual audience in mind to ensure students get a full, engaging and beneficial experience which builds their mental health awareness and gives them firsthand insight into the delivery of mental health care and treatment. 
Students leave the programme empowered to act as mental health ambassadors in both their schools and local communities, and their graduation from the programme is marked at the end of the academic year.
The five weeks of the next TY Programme will run across:
19 to 23 October 2020

9 to 13 November 2020

16 to 20 November 2020

18 to 22 January 2021

15 to 19 February 2021.
How to apply 
Teachers or school staff apply for places in the programme, which are then chosen through a draw after the deadline closes. Please note, we cannot accept applications from students or parents. The closing date for applications is Wednesday, 19 August 2020.
You'll find all the information and application details here.
Look back at our most recent TY Programme graduation
See more initiatives for secondary school students