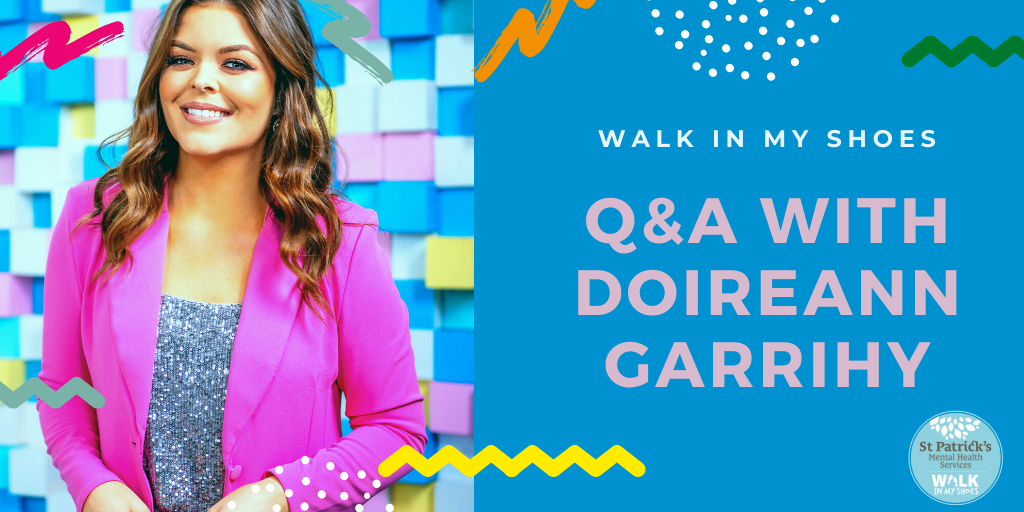 We chat with presenter, writer and podcaster Doireann Garrihy in our series exploring how people are minding their mental health.
Now, more than ever it's important to talk to each other about the challenges and changes from the last 14 months. Our Walk in My Shoes (WIMS) conversations help us reflect on how we can mind our mental health and deal with the impact of the COVID-19 pandemic together. 
RTÉ 2FM Breakfast Show presenter, writer and star of The Doireann Project on RTÉ Player, and host of The Laughs of Your Life podcast, Doireann Garrihy recently caught up with our WIMS Project Manager, Amanda. They talked about lessons learned over lockdown, protecting your headspace and why you never regret a powerwalk.
The last few months have been a challenging and strange time with the onset of the coronavirus pandemic. How have you been looking after your headspace?
I have been extremely lucky that I have been working throughout the pandemic. I love being busy, so I don't know how I would have coped if things had come to a complete halt for me. Of course, my evenings and weekends have been very quiet, but knowing that everyone is in the same boat is a comfort. There are days when it feels like the walls of my apartment are closing in on top of me. On those days, I put on my runners and headphones and go for a power walk. I don't always feel like doing it, but I know I will always feel better after it.
Have you taken up any new hobbies or skills since the pandemic began? Do you think you'll continue them as times goes on?
It might sound superficial or vain, but makeup has become my go-to form of relaxation. I just love sitting down, putting on a Spotify playlist and playing around with highlighters, blushers and whatever else. I started doing Instagram Live broadcasts with makeup artist Paula Callan at the start of the pandemic. She would guide me through painting my face from scratch and our Instagram followers would paint along with me. Paula is gifted and thought us all about accentuating my features… all I need now is somewhere to go!
Do you have any specific coping strategies which may help you get through the changes and uncertainty that's likely to be with us as we move through the next stages of the pandemic?
Switching off from the news has been a really important one for me. I hear the morning news bulletins and, after that, I try to avoid it until the headlines in the evening. If I was to pay attention to the Twitter mayhem, I would be driven into an overthinking spiral which is not good for someone like me who already overthinks enough. Control the controllables is another one. If I find myself getting into a tizzy about the uncertainty that lies ahead, I try to take stock of all the good things I have and remember that I can only control what I can control.
You are a broadcaster, podcaster, and you write and star in your own show, The Doireann Project. How do you juggle it all?
Where there's a will, there's a way! It's as simple as that. You make time for the things that give you joy, and I love what I do. You know when people say, "if you want something done, ask a busy person"? I feel most creative and have the best ideas when I'm busy. My mom will often check in with me and say "are you sure you're happy? All work and no play… you know the rest". But I'm well able to play too!
You also emcee different events, including wellness events like Healthfest. How does it feel speaking to such a large audience who are looking to be inspired?
It can be daunting, but only if you let it be. It is so important to remember that when you are speaking in front of a crowd, they WANT you to be at your best. They want to be inspired and entertained, not bored or feeling on edge watching you because you're afraid of making a mistake. Once you shift your mindset from feeling like they might be judging you to a more positive one, you're already on the road to doing well. You might trip over your words or say something you hadn't planned to say, but that's what it means to be human. There is no substitute for live events with an audience. I miss it so much!
Is there a piece of wellbeing advice you wish you had heard when you were younger?
Yes, so many to choose from! But one I really love is "what other people think of me is none of my business", although I'm not sure if it would have truly registered with me if I had heard it in my teenage years or early 20s. I think worrying about what other people think is part of growing up. Now, I find it extremely freeing. It truly is none of business what other people think of me, my choices, who I surround myself with and so on. If these things are serving me and the people around me well, then that is all that matters.
What message would you send to young people to help keep them motivated as we begin to move out of lockdown but continue to live with some form of uncertainty over the months ahead?
My advice would be to take each minute, hour, day and week at a time. I know I have felt a rollercoaster of emotions over the past year (even over the past hour)! I have been trying not to let the negative emotions consume me and, rather, allow them to simply come and go. Even if they linger for a few days, I always know they will pass, and knowing that keeps me going. It is really difficult when there doesn't seem to be a definitive end in sight, but there will be one. Let that be the focus!
What's the plan for the remainder of 2021?
To make 2FM Breakfast the best it can be and to continue having great conversations on The Laughs of Your Life. The Doireann Project Season Three is out in the world now (all episodes available on RTÉ Player) so I hope as many people as possible tune into it and, more importantly, enjoy it!