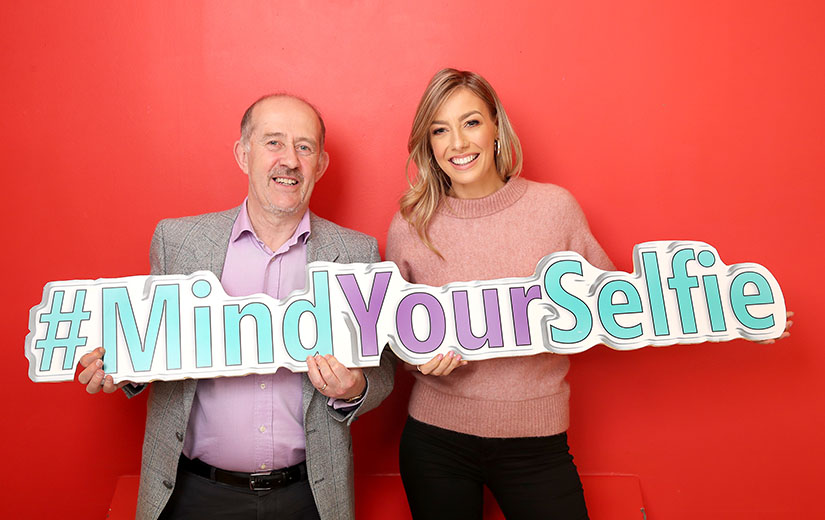 World Photo Day falls on 19 August. The main aim of World Photo Day is to inspire positive change across the world, connecting people and raising awareness using photography. To mark the day, our Walk in My Shoes (WIMS) Project Manager, Amanda McArdle, shares some insight into our #MindYourSelfie campaign and the power of photos in opening conversations about mental health.
#MindYourSelfie is a social media campaign created to promote positive mental health among children and young people, based on sharing photographs and positive mental health messages, as well as providing several free, accompanying resources.
Opening mental health conversations
Beginning back in 2016, our Ambassador, U2's Adam Clayton, along with almost 30 of Ireland's A-List bloggers and celebrities shared their selfies to launch the campaign. At the time, RTÉ Broadcaster Eoghan McDermott rightly said "selfies are an online phenomenon that can be used to positively engage the online community, and are a simple way to start a conversation about mental health."
Although social media can sometimes be viewed negatively, it can also be positive. #MindYourSelfie encourages people to share their experience and what they do to take care of their mental health through photography. Positive messages and insightful photos are shared all across social media on #MindYourSelfie Day, creating an online community of like-minded people opening up about their experiences.
The first year of the initiative saw the likes of Hozier, Steve Garrigan of Kodaline and magician Keith Barry posting their own selfies and taking part, resulting in the #MindYourSelfie hashtag trending on Twitter for almost 48 hours. Over the past four years, #MindYourSelfie has grown over, with people across the world – from Ireland and the United Kingdom all the way to Rio de Janeiro and Los Angeles – snapping their pictures and uploading them to social media to engage in positive mental health promotion.
Every year, #MindYourSelfie gets bigger and better. In 2018, for instance, it reached over 2.25 million people and achieved 4 million impressions on Twitter and Instagram, getting more people than we could've imagined at the beginning talking about mental health.
Sharing new resources
We launch a new downloadable resource every year to coincide with the campaign. 2019's #MindYourSelfie Day, for example, marked the release of a new mental health education film for schools. The film has been uniquely developed as a teaching aid to address how young people can look after their wellbeing, or 'mind their selfie', in the midst of everyday challenges.
This #MindYourSelfie film resource features clips from some of the shortlisted films that entered our Frame of Mind short film competition in 2018. These clips were especially selected because they explore some important mental health themes, particularly relevant to young people. Along with the companion guide, these can be used as a classroom tool to start a discussion about these aspects of mental health and wellbeing.
Meanwhile, the teacher's companion guide has been developed to accompany the film resource. This provides further information on the topics explored in the film, and suggests questions and discussion points to help teachers get the conversation around mental health started.
Looking ahead
April 2020 will see the fifth year of #MindYourSelfie and it will be bigger than ever. We're excited to see where all those selfies and positive messages will be shared from. Watch this space!